PUNY HUMANS, USE

TO REGISTER YOUR DOMAINS
Futurama Returns!
This is a non official section about the news/media/other related to the the DVD movies and the possible 2nd return of Futurama. The sources of the news will be listed always, unless the source can not be found.
| News | DVD Movies | Comic | Multimedia |
News
The more important news about the return of Futurama Returns are listed here chronologicaly from newer to older by year. Please contact me if you find any missing or wrong information. Use the menu to read post from the previous years.
2009 | 2008 | 2007 | 2006 | 2005
December 21, 2007
There you go the main news about Futurama in the past 3 Weeks:
December 11th

The Forbes Fictional 15 and 25 Largest Fictional Companies [Forbes.com]: Mom is in the 4th position of the richiest fictional characters with her net worth of $15.7 billion. Also, MomCorp has been cataloged as the 4th Biggest Fictional corporation of 2007 because it is a conglomerate that produces sales of $291.8 billion.

December 14th

Futurama Nominated for an Annie Award [AnnieAwards.org]: Futurama has been nominated for an Annie Award in the Best Home Entertainment Production for: Futurama "Bender's Big Score" – The Curiosity Company in association with 20th Century Fox Television.

December 18th
December 21th


Direct-to-DVD movies growing in popularity [Variety.com]: According to this article, many shows have succeded with direct-to-DVD mvies and series. In the case of Futurama, sales have been of about 100,000 copies, grossing $1.97 million.
December 03, 2007
Ok, some other great news around the web about the Futurama Movie. First, a video from AccessHollywood.com that features the Cast and Producers of Futurama at the Premiere of Bender's Big Score. Another video at MTV.com news that features in exclusive the first 4 minutes of the movie.
Some other interviews are available, like a short one to Phil LaMarr by CanMag.com where he talks a little about his voice (Hermes Conrad). Also, a new interview at Film.com to David X. Cohen by Mark Bourne with some interesting questions:
Do you prefer "geek" or "nerd"?
I think I prefer "nerd" because "geek" has all these weird other connotations, biting the heads off chickens and so on. Although I do all of those things, I'm more embarrassed by them than I am my "nerd" credentials.
What did you do after Futurama was canceled?
First I cried. That was the first year.
There were two camps we wanted to please with this return of Futurama. Actually, these two camps overlap, but we wanted to make sure both sides of the story were done well. One camp is the hardcore sci-fi fans, who get the big time-travel and space-battle story. The other camp are those hooked into our emotional, more relationship-based stories. That's where Fry and Leela come in.
The cover and one of the main articles of GeekMonthly.com features the return of Futurama and a interview with David X. Cohen.
Don't forget to check the official movie website: www.ilovebender.com
November 27, 2007
The First Futurama Movie is now available for everyone, Bender's Big Score is now in every store so you can buy it and give the show a new hope. I can tell you that is a great movie imo, has some extra stuff if you're a harcore fan, but is also great for people that is a new fan or just a normal fanatic.
There you go some of the recent news about Futurama and Bender's Big Score. Warning, you could find Spoilers:
November 16th
November 21th
November 23th
November 26th

November 27th

November 14, 2007
A new great interview by Scott Weinberg appeared today. Called, Interview: 'Futurama' Movie(s) Producer(s) & Director(s)! from cinematical.com, has interesting stuff about the Futurama Movies, there you go some of the highlights:
How many DVDs had to sell before someone (new) at Fox said "Heyyyy, there's still some more money to be made here! ... Is it pretty much the same crew from the series that's working on the movies?
DWAYNE CAREY-HILL: We have a great sense of pride as to how well the series turned out and a bunch of us, still working at Rough Draft, knew what it took to get these done. So there was the feeling that when doing these DVDs that we should push what we had done even further. We managed to bring back about a third of the old crew and the new people have proved to be great artists as well.

Hypnotoad tells us that there will soon be four (4!) feature-length Futurama movies on the DVD market. Was this the original plan for the series' resurrection? Did someone maybe float the idea of a new season instead? Did that one dreamer in the corner say "Yeah, or maybe a theatrical movie!"
CLAUDIA KATZ:: The first DVD will be released November 27, 2007. [...] I believe Spring 2008 is when the second should hit stores. Regarding the theatrical release, I am that dreamer! I think in many ways, okay, in every way, Futurama is incredibly well suited for features. I'm talking franchise if anyone's listening.

It's a well-known FACT that Futurama offered the prettiest animation anywhere on network TV. What can fans expect from the new movies? Will we get a few more of those mega-nifty 3-D sequences like the time Bender's head drove a car?
CLAUDIA KATZ:: [...] We're trying to evolve from pretty to beautiful. There are definitely some more great 3-D sequences, perhaps the best Futurama space battle ever, and many more fun surprises and deaths.
DWAYNE CAREY-HILL:: [...] The writers gave us four really ambitious scripts and I feel like we've been able to do them justice.

What's a normal day at work over at Rough Draft Studios like? How's the coffee? Is there a casual Friday? Obviously what you do takes a lot of skill, practice and experience, but just admit it already: animation is fun!
CLAUDIA KATZ:: Well, let's face it, normal is a relative term, we like to think of Rough Draft as a Work Hard / Play Hard Studio. I think we produce some of the best-looking animation out there and yet find time to throw the best Halloween party in town. [...] As far as wardrobe, for the most part every day is casual Friday. As the producer, I try to respect some basic level of decorum, but I'm pretty much alone in that.
PETER AVANZINO: First I go to work. Then I look at scenes. Then I eat lunch. Then I look at scenes. Then I go home. Seriously, though. [...] And, yes, animation is fun. Time-consuming, soul-draining, back-breaking, thankless fun.
DWAYNE CAREY-HILL: A normal day is very busy. Futurama doesn't draw itself. There are a lot of people putting in long hours to make sure these DVDs look great. [...] Is animation fun? To quote my wife Tricia, " cartoons are hard." It is a lot of work to do any animated project well and so I feel we've been very fortunate to work on things we really like.
November 11, 2007
In an article at The Couch Potato from MyTVisonFire.com, reported on November 3rd, and fully complemented with an article from TVShowsOnDVD.com from November 8th, the Official Bender's Big Score Press Release is now available with all the real info of the upcoming DVD Movie this November 27th. Read it right here:
THE FEATURE-LENGTH ACTION EPIC
1000 YEARS IN THE MAKING ARRIVES...
FUTURAMA IS BACK, BABY!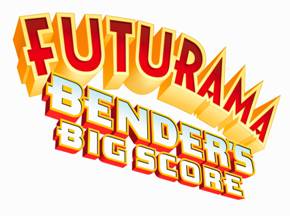 In Fox Home Entertainment's First Carbon-Neutral Release,
Fry, Leela, Professor Farnsworth And Bender Triumphantly Return
On DVD November 27
Century City, CA - The future is back...and it's cleaner than ever! Twentieth Century Fox Home Entertainment presents the first of four direct-to-DVD Futurama adventures when Futurama: Bender's Big Score makes its highly anticipated DVD debut on November 27. As the studio's first carbon-neutral release, the carbon impact of the production, manufacture and distribution of the Futurama Bender's Big Score DVD was directly assessed and actively reduced. For the unavoidable emissions, the studio used high-quality, verified carbon offsets. Futurama: Bender's Big Score also features an eco-friendly highlight: a cameo from former Vice President Al Gore, guest starring as himself.
The first feature-length Futurama action epic, with three more adventures expected through 2009, finds the Futurama crew fighting to save Earth in an epic battle against nudist alien Internet scammers. It's nearly Christmas 3007 when evil naked aliens launch a cyber-attack on the Planet Express and make a shocking discovery: the secret of time travel, mysteriously tattooed on Fry's buttocks. Using their devious nudist software to control Bender, the aliens send him through history where he has run-ins with the likes of Al Gore, Coolio (Daredevil, Batman & Robin) and Sarah Silverman (The Sarah Silverman Program, School For Scoundrels).
In addition to the never-before-seen movie, the Futurama: Bender's Big Score DVD features commentary from Matt Groening, David X. Cohen and cast members Billy West, John DiMaggio, Phil LaMarr, Dwayne Carey-Hill and Ken Keeler; an animated promo for An Inconvenient Truth starring Bender and Al Gore, with commentary by the former Vice President, Matt Groening and David X. Cohen; an all-new episode entitled "Everybody Loves Hypnotoad" including TV commercials of the future; a Futurama mind-shattering math lecture; character and design sketches and deleted scenes. Futurama: Bender's Big Score will be available for a suggested retail price of $29.98 U.S./$37.98 Canada.
Synopsis:
Uncancel your plans for the future: Futurama is back! In this all-new, feature-length epic, evil nudist aliens send Bender on a rampage through time, forcing him - slightly against his will - to steal all of Earth's priceless historic treasures. Will the heroic Planet Express crew save the planet? Will Leela find true love? Will the ancient and terrible secret of Fry's buttocks be exposed? All will be revealed in Futurama: Bender's Big Score, the greatest adventure of our time, and also the greatest adventure of several other times! In the words of a certain beer-fueled robot..."We're back, baby!"
DVD Special Features:
The Futurama: Bender's Big Score DVD will be presented in full screen format with English Dolby Surround 5.1, along with English, French and Spanish subtitles. Bonus features include:
Commentary By Matt Groening, David X. Cohen, Billy West, John DiMaggio, Phil LaMarr, Claudia Katz, Dwayne Carey-Hill and Ken Keeler
Futurama Returns! A Live Comic Book Reading By The Futurama Cast Featurette
Everybody Loves Hypnotoad - A Spellbinding Episode Of The Future's Most Popular TV Program
A Terrifying Message From Al Gore: Animated Promo For An Inconvenient Truth

Video Commentary by Al Gore, Matt Groening and David X. Cohen

Bite My Shiny Metal X: A Mind-Shattering Futurama Math Lecture Featurette
Bender's Big Score: The Original First Draft Of The Script Featurette
New Character/Design Sketches
Original Five-Minute Comic-Con Promo
Deleted Scenes

Monte Carlo
Robot Mafia
Limbo Contest
Fox Home Entertainment
A recognized global industry leader, Twentieth Century Fox Home Entertainment LLC (TCFHE) is the worldwide marketing, sales and distribution company for all Fox film and television programming on VHS, DVD and Blu-ray Disc (BD) as well as acquisitions and original productions. The company also releases all products around the globe for MGM Home Entertainment. Each year TCFHE introduces hundreds of new and newly enhanced products, which it services to retail outlets ? from mass merchants and warehouse clubs to specialty stores and e-commerce ? throughout the world. Twentieth Century Fox Home Entertainment LLC is a subsidiary of Twentieth Century Fox Film Corporation, a News Corporation company.

FUTURAMA: BENDER'S BIG SCORE
Street Date: November 27, 2007
DVD Price: $29.98 U.S. / $37.98 Canada
Closed Captioned: Yes


October 13, 2007
Due that the trailer of the first Futurama Movie: Bender's Big Score was deleted from YouTube and many other Video websites, TFP added the video right here.




You can see it also in any page of the site (at the top of the site), and also in the Futurama Returns! Media and Movies sections.

Of course, the objetive, is to encourage people to buy the DVDs to get the series back as new episodes (not just the movies as episodes, but real episodes) so, you can also read a Free Rationale Use of the Futurama videos.

September 28, 2007
The people from DVD Talk said that inside the DVD of The Fantastic Four - Rise of the Silver Surfer, the Futurama Trailer will be released:

* Trailers for "Fantastic 4," "X-Men," "X-Men: United," "X-Men: The Last Stand," "Dark Angel," "Deck The Halls," "Futurama: Bender's Big Score," and two theatrical trailers for "F4: Rise Of The Silver Surfer."

The DVD will be released on October 2, 2007, so be ready and share the trailer ASAP.

August 28, 2007
The first Futurama DVD, Bender's Big Score is at preorder in Amazon.com. Also, the DVD cover was updated over there and at FoxStore.com, and the format of the movie was changed to Widescreen.

July 30, 2007
Rotten Tomatoes added a great Futurama summary at the San Diego Comic-Con 2007 (check it out), an interview with Rich Moore (supervising director of Futurama) :

"...As for Futurama, I am supervising, but not as deep into it as I was back on the series. The first movie's back. It looks terrific, it looks great. I'm kinda jumping into the back end, pumping them up a bit."
RT: Can you confirm the titles of the rest of the Futurama movies?
Rich Moore: The Beast with a Million Backs, Bender's Game, and The Wild Green Yonder. Those are the titles. I don't think David would mind that that's out at this time.
...
RT: You're re-cutting the four DVD movies into television episodes. How is that working out?
Rich Moore: Each movie's going to be divided into four parts. It's not going to be just cut, cut, cut. They're going to try and edit them into separate pieces of a story.
RT: Is new animation going to be produced for the episodes?
Rich Moore: No. It's written in a way so that we can, like, move the third act [of one movie into an earlier part of an episode]. We'll tell Fry's story in one episode. We'll tell Bender's story in one episode.
...
RT: In moving from network television to cable, have there been changes to the show's budget?
Rich Moore: The budget's a little smaller. But it's comparable to what it was on Fox. The writing's crew a little smaller, but [we have] all the key people like Ken Keeler, Eric Kaplan. Our animation staff is exactly the same as it was on the series, the same size. Our CG department's a little bigger, even.
...
RT: Just in case that happens, will the last DVD movie have the same kind of closure that "The Devil's Hand are Idle Playthings" episode had?
Rich Moore: It does have some closure. When I read "The Devil's Hands are Idle Playthings" script, I was like, "You know what, this really reeks of the end. The last show of the series." And they did that on purpose, because they knew we might not be renewed. And the last DVD movie does have a little bit of that.

July 28, 2007
Leandro from Futurama Madhouse posted (thanks to Officer 1BDI) two promotional images. One about the First movie, Bender's Big Score!. The second is a promo about the return of Futurama at Comedy Central in 2008.See the 'Futurama Returns' images.

July 21, 2007
In an interview of iF Magazine by Carl Cortez, Billy West (voice of Fry) talked at the San Diego Comic-Con 2007 about the return of Futurama:

iF: What's happening with FUTURAMA. It's back, right?
WEST: We're going to go record the voices starting next week or so, we're starting to roll. David X. Cohen and Matt Groening are back. I know they most of the writers and I know they got the voice people. I can't wait, because I know where I'm going to`work in the next year. I'm in the business of 90 percent unemployment and my job is looking for work.
iF: Did you ever think FUTURAMA would come back?
WEST: I knew it was going to come back, because I happen to know the audience was snowballing behind everyone's back. It's more popular now, than when it first came out in 1999.
iF: How many episodes has Cartoon Network committed to?
WEST: 13. I think that's the standard run.
iF: So it will be like old home week, next week.
WEST: I'm thrilled, I'm going to go to work with people I absolutely love next week. Maurice LaMarche, Phil LaMarr, Katey Segal and John Di Maggio
iF: So when will they air?
WEST: They said something about 2008, but you know how fast time goes. I woke up one morning and I was 55 years old.

July 3, 2007
Lauren Tom (voice of Amy), in an interview of IGN with Eric Goldman, talked about the Futurama production:

I asked Tom about her return to Futurama, and she told me "We just did sixteen episodes and we just recorded the last four, and that was a big tear-fest."
...
As for the show continuing past these additional 16 episodes, Tom remarked, "We're keeping our fingers crossed that it will go on and have more of a life, because when we did the last table read, [Executive Producer] David X. Cohen said 'Welcome to the very last, last, last episode of Futurama …until the next last one!' So hopefully the fans will rally together again. Hey, it worked for Jericho!"
...
As for whether she was surprised to hear they would be returning to do more Futurama at all, Tom replied, "Completely! I think we were down for what, two, three years, so it was really just a blast from the past. But I'm so happy, because it's an incredible group of people. We have so much fun!"

June 30, 2007
In another post in the IMDb forums, Maurice LaMarche a.k.a.moe-ski at IMDb said:

Nice to see someone posted the next three Futurama movies on my credits. Thanks! Just by way of an FYI, the titles of the other two are: "The Beast With A Billion Backs" (#2), and "Bender's Game"(#3). You guys are gonna love 'em.

First one ("Bender's Big Score") hits the shelves Dec. 4th.

Moe

Over here we finally know a tentative date about the release of the first Futurama movie, and the names of the other 2 movies: "2: The Beast With A Billion Backs" and "3: Bender's Game".

June 16, 2007
In a post in the IMDb forums, Maurice LaMarche (voice of Kif and Morbo), a.k.a.moe-ski at IMDb wrote:

Thanks for the compliments... yeah, it's really me. I don't know why some have had a hard time believing an actor actually posts on IMDB. I'm a fan of the medium as well as working in it, plus, I appreciate that anyone appreciates my work, and want to let them know I do. I'm just too damn lazy to put up my own website. Plus, it would then rather obligate me to post on a regular basis, and I really only want to post when I have something interesting to say.

Speaking of which, Bender's Big Score is in post, and I assume we'll be tweaking the jokes in ADR soon (as if they weren't brillant enough already). It's set for a 12/4/07 release. The other 3 DVDs are great, too. We just recorded the final one, "Into the Wild Green Yonder" (hey, if I'm not really me, then how would I know that? Just a passing shot to the naysayers as to the veracity of my identity) all this past week. A great script, touching, relevant, a bit awe-inspiring, and of course, full of huge laughs. And the cast was in the finest form, even yours truly, who gets to do a hilarious B-story with The Donbot and Clamps at their funniest and most menacing.

Take care, and thanks for helping revive our little show. That goes also to all of you reading this, which I assume you're doing because you're Futurama fans. We're back because of your actions, both through letters and DVD sales, which let the powers that be know that Futurama is loved and missed.

Best,
Maurice LaMarche

Here, he talks about the cast has ended the recording of the last Futurama movie, and this is the first time the names of the movies (4: Into the Wild Green Yonder) appear.

March 12, 2007
A new interview from iF magazine to Matt Groening stated:

iF: Was it fun coming back to the FUTURAMA world?
GROENING: We had a lot more ideas, and there are many things of "what were we going to do, I can't remember?" so we had to come up with a bunch of new stuff.
iF: Do you pick it up from that point?
GROENING: We definitely address that we haven't been around for a few years, in the opening scene of the first episode. There's a very lengthy acknowledgement that we've been gone for awhile. It's very funny.
iF: Will Fox put the episodes on like FAMILY GUY?
GROENING: It's going to be on Comedy Central, starting at the beginning of 2008 and I don't know. Fox has an option, who knows. I hope so, that would be nice.
iF: When will you know if you're going to have a second batch of FUTURAMA episodes?
GROENING: Probably not until 2008. Maybe somebody will get inspired, but we are doing these four movies and sixteen episodes and that's good. It's a good start.

Here we can notice that the years have passed in the Futurama universe when the series ended... and that the episodes will be in Comedy Central in 2008.

February 26, 2007
Matt had an interview with Crave Online... where he stated:

Crave Online: Futurama on Comedy Central, are you frustrated that Fox didn't pick it up like Family Guy?
Matt Groening: Well, I was frustrated when it got cancelled, but Fox, 20th Television is the one who came back and said, "Would you like to do a DVD movie?" and we said, "Let's do two" and they said, "Well, why not three?" and we said, "Well, why not four?" and they said, "Okay, four" and then that's it.
Crave Online: Are they really full movies or just three episodes together?
Matt Groening: We're writing them as movies and then we're going to chop them up, reconfigure them, write new material and try to make them work as separate episodes.
Crave Online: Can DVD versions be more extreme than the ones for air?
Matt Groening: Those are the marching orders we gave ourselves, yes, to really try to push it and do things we might not be able to do on TV. And then Comedy Central picked up the show and we went, "Okay, probably there's nothing we can think of that Comedy Central won't run" because I'm astonished at what I see on Comedy Central every day.
Crave Online: How will you turn those into episodes then?
Matt Groening: We are reconfiguring them and writing new material and narration and this that and the other so that they'll stand on their own as episodes.
Crave Online: Could it go on beyond that?
Matt Groening: I hope so. My guess now is that this is basically a season that we're in production on which is complicated because they're also DVDs, so that they'll probably wait and see how they do and then we'll get the pickup.
Crave Online: You never gave up on Futurama, did you?
Matt Groening: Well, I always felt like we were a little bit like the original Star Trek. I always thought that working with my partner, David X. Cohen, that we knew that the people who loved the show really, really loved it and they wrote petitions, they wrote letters and e-mails and it just seemed right. And also, everybody that worked on the show loved it. So when it came time when the show did come back, everybody without exception said, "I'm on board." At this point, I said, "We're thinking of gearing up the show again." They said, "I'm on board." Everybody, Katy Sagal, all the actors, John Dimaggio, Billy West. The original animation team, the original animation house, the original writers. Everybody came back. It was great.

This interview aclared the dilema of DVD Movies Vs. Episodes. The Futurama Movies will be choped up, reconfigured and try to make them work as separate episodes, that will be aired at Comedy Central along with the previous 72 episodes of the first 4 seasons.

January 17, 2007
According to iF Magazine news, the Entertainment President Peter Ligouri of FOX said about the Futurama ressurection:

"There's no doubt that the FAMILY GUY model worked out outstandingly," says Ligouri. "It's great to be a network exec and have a decision made for you by an audience. In terms of FUTURAMA, there haven't been any active negotiations at this point. But I'd be an ostrich to just stick my head in the dirt and not realize what's going on with FUTURAMA as well."

This official word from FOX dind't say that Futurama was cancelled or not... but there was hope.

2009 | 2008 | 2007 | 2006 | 2005

| News | DVD Movies | Comic | Multimedia |

Support TFP: