PUNY HUMANS, USE

TO REGISTER YOUR DOMAINS
News Archive
August, 2011
by JavieR / August 25, 2011 / 01:26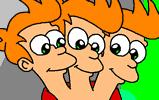 Hello people. I've not been around.. I'm sorry, I've a lot of stuff to do in my job. It is time for new fanart, and this time, I'm going to start with a girl named
SuperPrincessPink
and her latest 10 images. The arts feature many situations with Fry.. tired, with a mini pony, injured, planking, with his frydog.. and other images like a 300/Sparta parody, kissed by a girl, one with Fry from Universe 1, hugging with another Fry, and even a triple-headed Fry.
I've also added 12 new images created by
Alanquest
. The fanart features many comic cover parodies with many situations, from Leela and Fry fighting giant ants.. to a cover of the most weird robot in the Futurama universe.. the hair-bot. There are also parodies of Harry Potter, Dr. House and Pocket Monsters, and finally, a nice background with the Planet Express ship.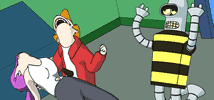 Another stuff for today is some great
3D art by Alanquest
. I've added 4 of his images, featuring a crash of the Planet Express ship with Leela, Fry and Bender, the crew singing Fry's Dumb Animal Song (with lyrics), a complete layout of Professor Farnsworth in 3D and finally, featured today, the scene of the Real Sting.. that is what really happened in the ship when Leela was attacked by the Baby Bee.
Finally, here you go the video preview of this thursday episode "6acv24- Cold Warriors". Watch it meatbags.. I mean the episode.. this Thursday at 10pm/9c only on Comedy Central:
by JavieR / August 18, 2011 / 21:42
Hi. I've not updated a lot around here, I've been dealing with some stuff in my job. In less than 1 hour, the new Futurama episode will air, "6acv18 - The Tip of the Zoidberg"... don't forget to watch!!! I want to start this update with a new fanart by
Y2W
featuring Leela in her Deathball uniform.. the image has great detail and Y2W style that looks very good. It is a high quality image, 'm sure you'll not be disappointed.
Some other fanart I added was created by
Gulliver63
. I've added 13 of his images, some of them featuring the crew as centaurs.. and even Marge Simpson as a pegasus (with younger Fry, Leela and the Professor riding her). 2 realistic portraits of Amy and Leela. The crossover include Johnny Quest, Harry Potter and Iron Man. Some other good images are also there.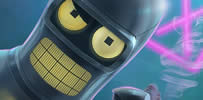 The final artist of the day is
CMC Illustration
with 4 amazing realistic Futurama portraits. The images that you'll find include Fry, Leela, Dr. Zoidberg and Bender (the last one is my favorite of this series). There's also the sketch of each art, that makes a total of 8 images! I really recommend you to check out those images, great stuff from a Futurama fan to the rest of the world!
by JavieR / August 10, 2011 / 01:56
Hello everyone. I've not been around this website for a few days, but I've been active slurmed's
facebook
and
twitter
.
To start the day (or to finish it, depends were you live) I've some nice fanart to share with all of you, created by some nice artists.
Kaspired
is the first one, I've added his 7 latest arts, featuring some interesting situations. A snake Leela holding Fry, female Fry and Amy as a male and without body.. bot from the episode "Neutopia", Leela cycling the Tour de France in a great angle, 2 parodies of Sonic the Hedgehog featuring Fry, Leela and one with Proctor and the other replaced with Amy. The final image is the one featured today, with many characters in different "dimensions" like the room Fry and Bender saw in the episode "I, Roommate".
some other new fanart was created by
Vickram101
. One image is the final version of himself talking with Fry outside the Planet Express building and not only that one, but other with Bender as a Megazord (from the Power Rangers).
The final artist today is
Leena
. I've added 13 of her images, featuring many characters.. well, mostly Fry and Leela. Some of the images feature the real Sting episode (Fry waiting for Leela to wake up), as characters of Toy Story, Fry giving Leela a ring, discussing in the rain, in the cover of a Futurama comic, as Head-in-a-Jar and Leela kissing Fry. Other images feature Leela as Marge Simpson, Fry chased by a microwave from episode "Ghost in the Machine", Bender carrying Leela (episode "Proposition Infinity") and Leela crying.. that I think is a great but sad image.
by JavieR / August 1, 2011 / 02:25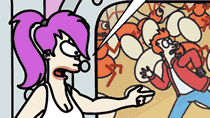 Hi once again. I've been around, but not with enough time to update TFP. Today, I've some great stuff. 4 new comics created by
Alanquest
.. 3 of them, are mini comics called "Fathers Day", "Friendships Stick Together No Matter What" (made in 3D) and "Troublesome Items". The 4th and final one, is a 30+4 pages full comic named
"Pocket Monsters"
that starts with a new invention of Professor Farnsworth and ends in a Shopping Mall.. haha (not to mention the giant ants..)
I've also added some fanart by
Gulliver63
, about 12 images featuring crossovers with Johnny Quest, Amy and Kif as pets, Anime Leela, I dream about Fryie (Jenny) and Venture Bros. There are also 3 images inspired by the episode "Neutopia" like Amy and Leela as guys, Old Neutral clothing and a very disturbing one... Zapp and Kif as females. There are some more fanart images, check them out!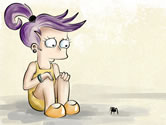 The final ones are also comics. One was created by
MissFuturama
. Known by her great coloring, this mini comic looks great and uses no dialog to send the message. The comic name is
"Little Spider"
, and features Linda (Fry and Leela's daughter OC character) afraid of a spider. It is a very sweet comic of only 2 frames, but I know you'll like it. The other is a 1 page comic by
SuperPrincessPink
featuring Fry and Bender talking like the popular 300 scene:
This is Sparta!
Have fun and good night!