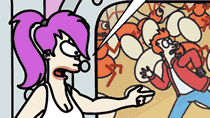 Hi once again. I've been around, but not with enough time to update TFP. Today, I've some great stuff. 4 new comics created by
Alanquest
.. 3 of them, are mini comics called "Fathers Day", "Friendships Stick Together No Matter What" (made in 3D) and "Troublesome Items". The 4th and final one, is a 30+4 pages full comic named
"Pocket Monsters"
that starts with a new invention of Professor Farnsworth and ends in a Shopping Mall.. haha (not to mention the giant ants..)
I've also added some fanart by
Gulliver63
, about 12 images featuring crossovers with Johnny Quest, Amy and Kif as pets, Anime Leela, I dream about Fryie (Jenny) and Venture Bros. There are also 3 images inspired by the episode "Neutopia" like Amy and Leela as guys, Old Neutral clothing and a very disturbing one... Zapp and Kif as females. There are some more fanart images, check them out!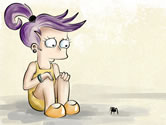 The final ones are also comics. One was created by
MissFuturama
. Known by her great coloring, this mini comic looks great and uses no dialog to send the message. The comic name is
"Little Spider"
, and features Linda (Fry and Leela's daughter OC character) afraid of a spider. It is a very sweet comic of only 2 frames, but I know you'll like it. The other is a 1 page comic by
SuperPrincessPink
featuring Fry and Bender talking like the popular 300 scene:
This is Sparta!
Have fun and good night!