PUNY HUMANS, USE

TO REGISTER YOUR DOMAINS
News Archive
June, 2012
by JavieR / June 30, 2012 / 02:18
Another week, a new Futurama episode this past Wednesday. It is time to give you my thoughts and impressions about this electoral story.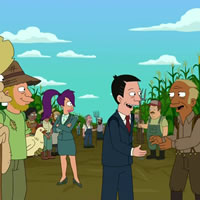 7acv03 - Decision 3012
Well, this episode was very entertaining. It had the upcoming elections featured in the year 3012, where Leela gets involved in the campaign of Senator Travers (perhaps you can't remember him) fighting against Nixon's head, but it turns out that he has no Earth Birth certificate (sounds familiar right?). The timing of the episode was right, perhaps some intro scenes, like the hospital entrance, could be shorter. The scene back from the hospital about the zebra entrance and the one of Bender vacuuming Leela's hair are kinda fun (even when they are just visual jokes).
One thing about this new Futurama Season 7A, is that 2 of 3 episodes have a sci-fi twist that really works (like the Ben twist in episode 7acv01 - The Bots and the Bees). Perhaps this was not an emotive story like the previous two, but it is looking greater that Season 6B in 2011, somehow because Comedy Central is following the original production order, and also Futurama writers seems to be back on track (even more) with some awesome episodes. The end is very good, everyone forgetting about Travers (what Travers?) because of a time paradox
D:
and Nixon being re-elected without an opponent, just like Bender said: Nothing ever changes... Politics 101. I'm not giving everything away on the plot this time..
This episode was written by
Patric M. Verrone
, he is also co-executive producer of the series. He wrote some great episodes, like "A Fishful of Dollars", "I Second that Emotion", "A Clone of My Own",
"The Sting"
, "Attack of the Killer App" and "Ghost in the Machines" + more!
1.45 million
meatbags and bots watched this episode the back Wednesday, looking good since the previous 2 episodes got 1.6 million viewers.
Come on people, do not forget to
watch Futurama every Wednesday at 10pm/9c on Comedy Central
, tell everyone to tune in to keep the series strong, I really thing you should see this 3 first episodes of the season!
If you wanna, say what you think about this episode in the comments bellow
, any point of view, idea, thought or whatchacallit.. discution is always welcome.
Source:
TVbytheNumbers
by JavieR / June 25, 2012 / 01:15
Futurama has started once again with 2 back-to-back episodes that aired the past Wednesday, July 20, 2012. I'm going to write my thought about it, but please feel free to comment and say what you think.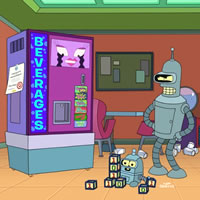 7acv01 - The Bots and the Bees
Ok. This was in my opinion the best of the 2 premiere episodes. Of course, it was kinda estrange that Bender cared about his son Ben (whose mother was Bev @
Wanda Sykes
), but anyway, humanizing Bender feelings is a plus because of the twist at the end. The irony has always been well used in Futurama, and this moment is well done, like the irony from classics like Seymour in "Jurassic Bark", or Fry and the Robot Devil (and Leela) in "The Devil's hands are Idle Playthings". It is the twist that goes from laughs to tears that makes a Futurama episode worth it.
This episode was written by
Eric Horsted
, that wrote some great episodes like: "I, Roommate", "Bendin' in the Wind", "A Taste of Freedom", "Lethal Inspection", "The Mutants Are Revolting" + some more.
1.57 million viewers
saw the first episode, a little low for a premiere (usually near 2 million), but I saw many people on twitter
trying to view Futurama on Thursdays.. when in fact it is now every
Wednesday
on Comedy Central.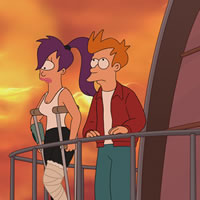 7acv02 - A Farewell to Arms
This episode had a mix between love, action and science fiction, a good combo thread for the Futurama fans. I liked the idea of seeing Fry try to conquest Leela once again, but I felt something different in the development of the relationship that somewhat looks forced. Other than that, the story moves quickly, but not as rushed as some episodes from Season 6A and 6B. The final touch of Fry and Leela's arms together in space was a nice touch, some people found it gross haha.
This episode was written by
Josh Weinstein
, and he also has some previous episodes like "That Darn Katz!", "Law and Oracle" and "All the Presidents' Heads". Earlier than Season 6, he was a consulting producer of the series.
1.64 million people
saw this episode, more than the first premiere ep. I think in part because the first episode made more people view the second (good sign perhaps) and also because some people thought Futurama was still on Thursdays and only saw the 2nd one.
--
Finally, I think this was a solid start for the series, and I really hope the upcoming episodes, some written by the producers and that have great stories can move up the bar.
If you've something to say, please write in the comments
and I'll be glad to discus it.
by JavieR / June 14, 2012 / 12:49
The San Diego Comic Con 2012 is a month away, and the
Futurama panel
will be there on
Saturday, July 14th, 2012
. The panel will include:
Billy West (Fry, Zoidberg, the Professor, Zapp)
Katey Sagal (Leela)
John DiMaggio (Bender)
Maurice LaMarche (Kif, Calculon, Morbo)
Matt Groening (not confirmed but I'm sure will be there)
The mandatory nerd.. David X. Cohen (not confirmed but I'm sure will be there)
The awesome news besides that panel are the
awards you'll get if you go there as a Futurama character: human, alien or robot!
You can send us a tweet to
@slurmed
, or reach us at
facebook.com/slurmed
with your costume ideas if you're going (or not) to the SDCC 2012.
Wooden Bender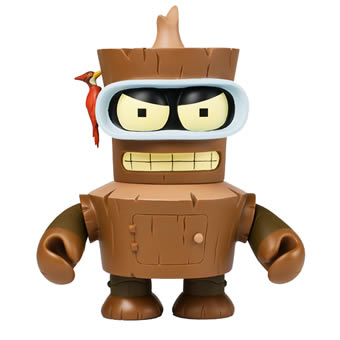 Kidrobot has been very aware of the Futurama merchandise madness, that's why, besides the regular figures, this year they have released (
not a SDCC exclusive
) large version of wooden Bender, as a big 6 inches vinyl figure, that goes for around $50 (already at a lower price in some sites). This figure is quite stunning IMO!
The Hypnotoad
The hypnotoad appears as the exclusive SDCC 2012 Kidrobot Futurama figure,
but by now, we can only see the silhouette
. According to them, is a 4.5 inches vinyl figure and if I'm not mistaken, this is the first Hypnotoad figure that I've seen. The price at the SDCC 2012 will be $40, and they will release it for everyone on August 2th (I believe for a lower price). You can get it at the SDCC 2012 on
booth #4529
.
About Toynami... no word from them
. If they say something, I'l ad it here, but
they have many figures that have not been released
: Morbo, Lrrr, Donbot, Joey Mousepad, Clamps, Flexo, and even the retail version of Destructor, promised by Toynami since 2011. I really hope the finally release some of the figures listed... The robot mafia is a must have.
Source:
Hollywood Reporter
,
Kidrobot Exclusive figures
,
Kidrobot Wooden Bender
,
Spanky Stokes
by JavieR / June 5, 2012 / 00:34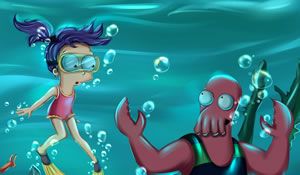 Hello. I've no excuse, I'm lazy many times, but that doesn't mean I don't want to update TFP. In fact, I'm doing it right now, starting with a girl known as
MissFuturama
and 12 or her fanarts. As usual, she creates original characters with neat detail, and this time she created 4 new OC. The first one is Leela, Amy and Kif's kid Kamy Kroker. The other one is Julie, a cyclops like Leela but with orange hair like Fry (Alice's little sister), and she is different" like Leela. The last 2 ones are Alice friend from the academy, Samantha and Christopher.. and there other just with Samantha chatting. There's an image of Bender carrying little Alice created by
PandaJenn
, and the new one has the same image but with teen Alice (very cute scene BTW). A shippy image of Fry and Leela cuddling, Alice on a swing with a black cat, Brender with a fembot, a defying Alice pose (black and white background versions) and finally, the one features, with Zoidberg and Alice under the sea!
Jennifer Morton (aka PandaJenn)
is also around here with 2 fanarts. The first is a tribute for the 100th episode of Futurama, and the other one is Jenn herself giving a strong hug to Fry.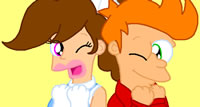 Moaar fanart is here thanks to
Jenny Go (aka SuperPrincessPink)
. She has created 24 images so far, a lot of cuteness and many many situations. As usual, she creates her OC double-headed Frys in many funny, weird and other situations, but there's also a couple of triple-headed Frys, and many other situations, like Fry and Fry from universe 1, Fry's son, a tribute to OC from other characters, Jenny (OC by
PandaJenn
) with Fry, Futuramachus (you get the idea), and even Yancy Fry. Check them out!
Support TFP: