Futurama has started once again with 2 back-to-back episodes that aired the past Wednesday, July 20, 2012. I'm going to write my thought about it, but please feel free to comment and say what you think.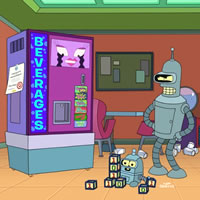 7acv01 - The Bots and the Bees
Ok. This was in my opinion the best of the 2 premiere episodes. Of course, it was kinda estrange that Bender cared about his son Ben (whose mother was Bev @
Wanda Sykes
), but anyway, humanizing Bender feelings is a plus because of the twist at the end. The irony has always been well used in Futurama, and this moment is well done, like the irony from classics like Seymour in "Jurassic Bark", or Fry and the Robot Devil (and Leela) in "The Devil's hands are Idle Playthings". It is the twist that goes from laughs to tears that makes a Futurama episode worth it.
This episode was written by
Eric Horsted
, that wrote some great episodes like: "I, Roommate", "Bendin' in the Wind", "A Taste of Freedom", "Lethal Inspection", "The Mutants Are Revolting" + some more.
1.57 million viewers
saw the first episode, a little low for a premiere (usually near 2 million), but I saw many people on twitter
trying to view Futurama on Thursdays.. when in fact it is now every
Wednesday
on Comedy Central.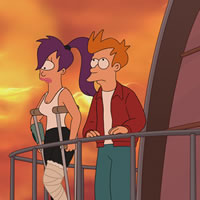 7acv02 - A Farewell to Arms
This episode had a mix between love, action and science fiction, a good combo thread for the Futurama fans. I liked the idea of seeing Fry try to conquest Leela once again, but I felt something different in the development of the relationship that somewhat looks forced. Other than that, the story moves quickly, but not as rushed as some episodes from Season 6A and 6B. The final touch of Fry and Leela's arms together in space was a nice touch, some people found it gross haha.
This episode was written by
Josh Weinstein
, and he also has some previous episodes like "That Darn Katz!", "Law and Oracle" and "All the Presidents' Heads". Earlier than Season 6, he was a consulting producer of the series.
1.64 million people
saw this episode, more than the first premiere ep. I think in part because the first episode made more people view the second (good sign perhaps) and also because some people thought Futurama was still on Thursdays and only saw the 2nd one.
--
Finally, I think this was a solid start for the series, and I really hope the upcoming episodes, some written by the producers and that have great stories can move up the bar.
If you've something to say, please write in the comments
and I'll be glad to discus it.