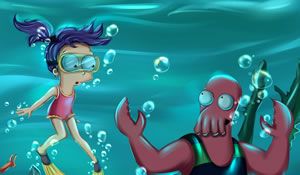 Hello. I've no excuse, I'm lazy many times, but that doesn't mean I don't want to update TFP. In fact, I'm doing it right now, starting with a girl known as
MissFuturama
and 12 or her fanarts. As usual, she creates original characters with neat detail, and this time she created 4 new OC. The first one is Leela, Amy and Kif's kid Kamy Kroker. The other one is Julie, a cyclops like Leela but with orange hair like Fry (Alice's little sister), and she is different" like Leela. The last 2 ones are Alice friend from the academy, Samantha and Christopher.. and there other just with Samantha chatting. There's an image of Bender carrying little Alice created by
PandaJenn
, and the new one has the same image but with teen Alice (very cute scene BTW). A shippy image of Fry and Leela cuddling, Alice on a swing with a black cat, Brender with a fembot, a defying Alice pose (black and white background versions) and finally, the one features, with Zoidberg and Alice under the sea!
Jennifer Morton (aka PandaJenn)
is also around here with 2 fanarts. The first is a tribute for the 100th episode of Futurama, and the other one is Jenn herself giving a strong hug to Fry.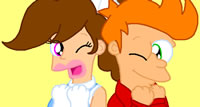 Moaar fanart is here thanks to
Jenny Go (aka SuperPrincessPink)
. She has created 24 images so far, a lot of cuteness and many many situations. As usual, she creates her OC double-headed Frys in many funny, weird and other situations, but there's also a couple of triple-headed Frys, and many other situations, like Fry and Fry from universe 1, Fry's son, a tribute to OC from other characters, Jenny (OC by
PandaJenn
) with Fry, Futuramachus (you get the idea), and even Yancy Fry. Check them out!