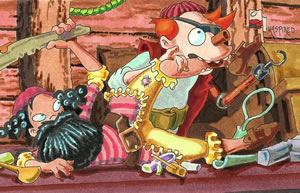 Less than 4 days and a few hours to go... the Final (for now) Futurama season is around the corner, and what about if I update this site at least once a month :(
I would like to feature the first artist,
Kaspired (Mike)
. I'm ashamed to say I've not added his art in a while, and that's bad because you'll see now 25 images that will let you wanting more. We have the latest, Leela painted on a metal plate, Leela, Fry and Bender missing from an image (because of the cancellation), Leela on the Probulator, bizarre pirate Fry and Amy (fun!), a very sexy and defying Leela, another Leela in a very neat style, Sexy Legs Amy with a future Snowball cat, Leela transformed with tentacles (from one of the new eps), Zapp and Leela as characters from Tangled, 2 sexy portraits of LaBarbara Conrad, The PE Ship with raindeer horns, Yakko from Animaniacs with Leela as the Hellloooo Nurse!.
What else, oh yes, more fanart.
Tastes-Like-Fry
has created 10 ne images, from a Purple vs. Orange great shillouethes to Bender, Leela and Fry going out for Halloween. There are also 8 new images by
Sof-Sof
with her usual chibi style and kinda extrange situations.
Finally, 21 more images... another sorry, this time to
MissFuturama
. All fanart she created all this time is really amazing, so I'm gonna mention some of it. 2 very Sexy Leela portraits, a Nex Generation portrait of her OC, Robot Devil dancing with a naked growed up Alice, Sexy Alice and Julie, some scenes of Bender and little Alice, anime version of Alice, Alice jealous of Bender, a dying and bloddy Alice, 2 scenes of Fry and Leela as a couple, Danka.. another OC, Bender dancing with Alice and smoe others.
Don't forget to be around
Twitter
and
Facebook
, you'll find stuff that you'll not se here.