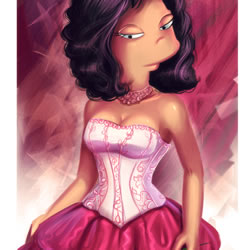 Hello people! As you know, Xmas is neat, Robot Santa will punish you and probably will kill you. In the meantime, why don't you enjoy this neat Futurama fanart!
Surprise,
MissFuturama
is around once again with more amazing of her Futurama fanart. Some images are about her fanfic (in russian only, sorry) about Bender's wedding... and you'll find scenes of adult Alice (MissFuturama OC) fighting with Bender's fiance, Bender and his fure robot wife, Fry, Leela and littel Alice (she is mad about the wedding) and Alice crying to Bender about the wedding. Other images are sexy portraits of adult Alice, Amy, adult Alice and some other girl and Anna (other OC). An image of Alice with some guns, Bender and Alice making a snowman with washbucket as the hat, and finally, 7 retro/victorian images of a series of the phantom of the opera, featuring Anny, Amy, Alice and Bender, Fry and Leela, and finally, 4 other OC.. Julie and Arthur, Beatrice and Kamy. Some other images include a self-portrait of MissFuturama!!
I've added some other fanart fron different artists! 17, yes 17 new arts by
!iMmOrTaL!
and his sexy situations (including a naked beach and a love tub) that I'm sure a lot of you will enjoy, so, check them out!!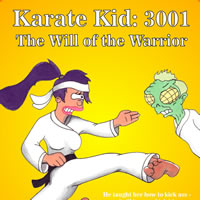 Finally, some neat 13 images by
Gulliver63
. As usual, he has created a lot of parodies from many topics. You'll find giant Amy, Leela and of course, bureaucrat Morgan Porctor. There's a fun parody of Fry and the Slurm Factory some Tech-y Amazons, Selma crush on Proctor, Karate Kid 3001 (with Leela and Master Fnog). There are 5 images in 1, featuring the fashion of Philip J Fry as a woman (inspired by that episode, you know).
Take care now, and don't forget to get a
Futurama Volume 8
on
Blu-Ray
or
DVD
for you or for a puny human you care about! Remember that big sales brought Futurama back in 2008!