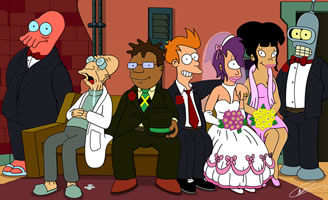 Ok, I'm alive. Time to update TFP with some new fanart, and why not with a new fan artist around here. Please welcome
!iMmOrTaL!
and his more recent images. Some of them are tributes to other OCs, like Julie, Alice and Arthur by MissFuturama. There are also some iconic images from the latest episodes, Leela and Fry as Purple and Orange, Scruffy and Washbucket (in Amy's body), Fry looking confident to Leela, and the crew as animal species from the Galapagos Islands. A big project I've added from him, is the Futurama Planet Express employee photo in different times, from the original crew in the year 3000, to photos of the couples (Fry and Leela, Kif and Amy) going between Fry and Leela engagement, marriage, the Professor's death, pregnancy and a child born.
Well,
kik0thek1ller
is back around here with 4 of her fanarts, a sexy cheerleader Amy with a basketball, a classic leela shooting, Leela with her outfit at the Earth vs. Harlem Globetrotters basketball game, and finally 3 neat poses of Cloberella.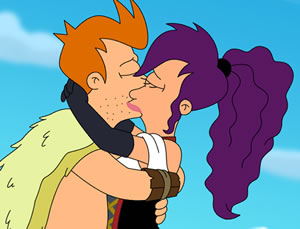 The last artist of the dat (or today since I added this a few days later) is
TheFightingMongooses
.
I've added 16 fanart images featuring many Futurama neat moments of the last Season aired (7B, 2012). You'll find a fight between orange and purple, and also their kiss after the fight (featured as you can see), some cat propaganda (haha), Fry and Leela on the moon, a very sexy Leela, Bender and his bastard son, Fry looking his reflection on Hermes robotic ass, Fry and Leela Planet Express prom photo, Slurms McKenzie, Fry and Leela as lovebirds, Bender killing all humans, Oktoberfest Leela, Leela and Fry as Homer and Marge, Fry taking charge and arousing Leela, The crew going to the past and why not disco dancing Zoidberg and Amy!