Howdy people. I'm back around with some good news!.
Ripple Junction
contacted me to inform me about the upcoming Futurama T-Shirt designs that could be produced in the near future.
It is up to us, the fans, to let Ripple Junction know what Futurama T-Shirt designs are the cloolest ones this time, and you get a
chance to win a Free Futurama T-Shirt by answering this Survey
.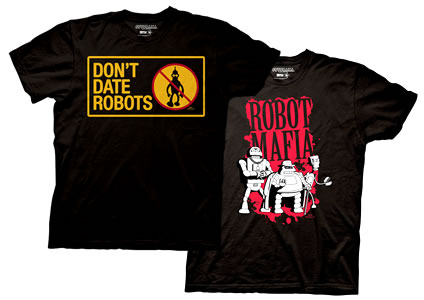 As usual, I've added my two favorite T-Shirts from the many designs of the survey (
The Robot Mafia
and the
Don't Date Robots
T-Shirts), but you'll find many other Futurama topics, from the ultimate Robot Fighting League, the New Justice Team, Zoidberg, John F$#!@g Zoidberg, Lrrr, Walrus Juice, and even the epic I'm with a Stupid on the moon.
Share this, make more people vote for your favorite designs (*cof*Robota Mafia & Don't date Robots*cof*). The power is in your hands and/or tentacles!