Hi... long time no see. I'm sick, I've no time since I'm still recovering from my knee injury in December, 2011. I've mostly added reviews of the new episodes, but I had no time to add the last 2 episodes. Today, I wanna add some of the many fanart images I've not added (sorry to all the artists).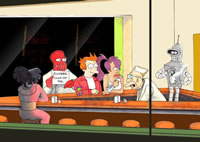 I want to start with a guy named
Gulliver63
, and not less than
37 new images
that he has created in al this time.. Many many funny situations. Movie parodies like Dirty Kif, Return to the planet of the Cyclops, Iron Amy, The Amy Bully, Leela as Han Solo, A Fistful of Futurama, The Bureaucrat Menace and more. Other are crossovers with other stuff, like Korean Kanbok Amy, Kiffa, Human Bender with Robot Leela and Amy, many Land of the Giants images, Momoids (Deltoids), some interesting Morgan Proctor parodies, and many more images that you'll enjoy!
I have added 9 new fanart images by
Anichysaur64
featuring some original characters and some shippy images!
Vimp
has also created 3 images, featuring a regular Fry, a Fry (SuperPrincessPin style) and an Amy portrait.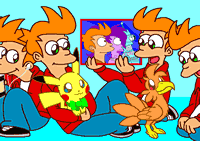 Finally, I've 21 images created by
SuperPrincessPink
, featuring many characters and moments. As usual, she likes to create the double-headed Fry at the beach, drinking soda, with Pikachu, with Amy and Bender's OC daughter, discussing, dancing, chilling and more. Other images feature Fry giving Leela some flowers, Fry riding a pony, Fry cerberus, the crew watching some fireworks, gothic Amy, and a lot of Fry clones doing many different stuff at once! Have fun and enjoy.
More fanart is coming... I've a lot of sutff to add.

Episode "7acv12 - Viva Mar Vegas" airs on Wednesday 10pm/9c on Comedy Central, don't forget to watch it!!