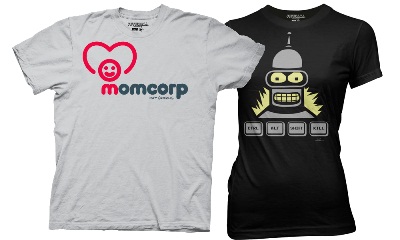 Hi there! As you can see (well, you can see just 2 of them here), there's a new bunch of awesome Futurama designs that can be your new favorite T-shirts, thanks to
Ripple Junction
.
All you've to do is answer this survey over here
and give your opinion on each designs.
As usual, there are a lot of awesome designs, going from the Action Delivery Force, Hypnotoad, Pannucci's Pizza, Zoidberg, Mom Corp and Bender! Some of the m look great, some others.. I don't think they are gonna work, but that's my opinion,
you have to give your in the survey
.
Like in a previous time like this, Ripple Junction will be picking some people that answered the survey and they will win free T-shirts!
Also, don't forget that a new Futurama episode airs tonight at 10pm/9c on Comedy Central!