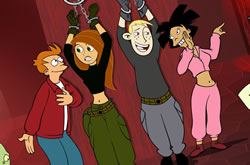 Hello fellas. I'm once again around here updating the site with new stuff by the fans, for the fans. I want to start with a nice guy from Argentina that hasn't created Futurama fanart in a while,
mr35mm
. In case you didn't notice, he is back with this crazy Futurama vs. Kim Possible art, that shows us what the Futurama gang will do against or with the Kim Possible characters. It has many crazy (I said that already right?) situations in a single image that you'll enjoy. so please don't skip this one!
Red_Line
(aka Tim from Futurama Madhouse) sent me his latest fanfic called
"Collision Course"
. It is based in the possible events at the end of "Overclockwise" where Fry and Leela are reading about their future and they get angry and slap each other. It is an interesting take because no one knows what really happens.. perhaps this...
Another person here tonight is
Ben Cain
, he sent me this art a while ago, so I'm sorry that I posted it so late. The art features a Mecha Leela, and she is inside a mecha cockpit with nice details.. very sci-fi!
There's also a new Photo/Art in the
Photorama
section, featuring a new artist named
David Zeilinger
. It is a piece of wood with Roberto carved on it.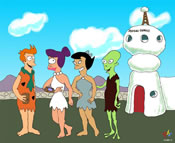 I would like end this update with the fanart created by
Gulliver63
. I've added his latest 21 images, as usual from him, featuring many interesting crossovers.. Flinstones, Jetsons, as teenagers, the children of the PE crew, as a chess game, Amy featuring in the Chinese new year, General Proctor, Hellboy, a sitcom and I could go on. There's also a nice realistic version of the portrait the PE crew took in Monument Beach from episode "When Aliens Attack". I'm out to sleep (yes, I lied.. but you keep watching)!