Welcome back to TFP. I've been around the social networks because I can update very quickly and I'm busy with my work and my knee therapy (that is going well so far).
Today, I've to start this update with a girl that can create amazing art and give us new stories to think of with her original character... I'm talking about
MissFuturama
of course, and you'll see today a bunch of
15
new images she created. First, I wanna apologize for not adding her Xmas work back in december, but you'll find 2 images, one featuring Robot Santa and the other of little Alice Fry (OC) waiting for Santa by the window. Cute little Alice images are on the table: Her with butterfly wings, petting a cat in a great background, in the rain next to Fry, dreaming. Others feature Alice with Fry on autumn, talking with uncle Bender, receiving a valentine's letter from a boy. There's an image of Leela eating ice cream and other of Fry and Alice dressed up for Halloween. The last ones are about a
grown up Alice
where she looks very beautiful, 2 of them in a black space suit (and with her mother's attitude!), and the one featured today, dressed for the prom.. where she looks stunning, and Bender even gave her a cute necklace (stolen from the national museum of course).
Another artist around here once again is
mej073
, and I've added his crossover of Leela with Psylocke.
Tastes-Like-Fry
strikes again with a double headed Fry (a request by a known artist around here.. SuperPrincessPink). I kinda wild image of teenager Leela was created recently by
Freako
.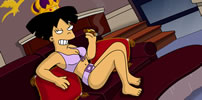 The last artist of this kinda mega fanart update is no other than
TheFightingMongooses
and his latest 6 images. From the Fry and Robot Devil scene from "The Devil's Hands are Evil Playthings", Fry and Hermes as women from episode "Neutopia", Mr. Peppy from the latest season episode "Fry am the Egg Man", Fry and Leela in a date night (inspired by some episodes) and the last one, a neat complete image of Bender as Amy from the Emmy award winner episode "The Prisoner of Benda"!