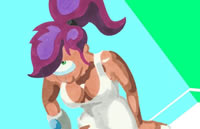 Hi. This is a kinda quick update but with plenty of fanart for you to enjoy. I would like to start with a neat artist that always has great ideas. I'm talking about
Kaspired
and his latest 12 images, featuring neat ones like a neptunian female model in the north pole (where Robot Santa lives), an also sexy image of Edna (the female decapodian from "Why must I be a Crustacean in Love?"), Bender burning Amy's long hair (inspired by the "Bender's Big Score" movie intro), Leela in a sexy dress and perspective, Professor Farnsworth and the siren Umbriel, Leela as Gynecaladriel (from the "Bender's Game" movie), Johnny Zoidberg (with hair!), a couple of nice gray-scale images, and finally, Leela getting married with Morris Turanga giving away her daughter (also from the movie "Bender's Big Score").
I've also added fanart from other artists such as
Gulliver63
and 18 of his images. He has a lot of imagination, so you'll find parodies of Scooby-doo, Planet of the Apes, the Lilliput universe, Avatar, Charlie's Angels and the Beatles. There are also 2 Amy images, a Leela image, Leela and her daughter, and even a SOPA related image featuring the Professor and the V-GINY satellite module.
Another artist here today is known as
Tastes-Like-Fry
. I've added 4 of his images, featuring a parody called Bender's Angels, a Leela and Fry crossover of Portal 2, Lucy (Leela and Fry's daughter, OC) learning how to drive in space, and a portrait of Leela and Fry playing that internet video game from the episode "A Cyclops built for Two".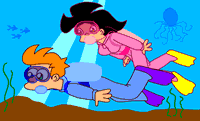 The final artist of the night is
SuperPrincessPink
. I've added her latest 13 images, featuring many wild ideas like the 4 headed Fry (both normal and anime style), Philip Fry and Yancy Fry arguing, Bender and Fry drunk, Fry being prototyped in a robot, Fry "drinking" slurm, Cerberus Fry, Fry as a dragon, Bender and a couple of Frys, a crossover of Fry an Pikachu, Fry and Fry from universe 1, Fry hugging himself and the final one that features Amy with Fry scuba diving.