Hello. Some of you don't remember me, I'm JavieR (aka javoec) and I'm the human that updates TFP. Sadly, this past 1 and a half months, I've been active only in the slurmed.com social networks, since you might knew about my knee injury (check a previous entry). I have more time now, and I'll try to update the site more often.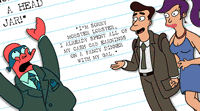 I have a lot of fanart and fan stuff to add, and I decided to start today with some comics created by
Alanquest
.
3 short comics
featuring different situations. The first is about Zoidberg trying to be a mobster with no success (an original scene from episode "The Cyberhouse Rules"). The other features The Professor calling Cubert from jail (from "The Beast with a Billion Backs" movie). The final one features Calculon donating his robot parts (and Bender take advantage of it).
I've added 2 images by
Freako
featuring Leegola (Leela) literally eating a heart, and other featuring the Fry meme! There's also the Leela Planet Express calendar photo (in a bikini) created by
h4xx0rz5upr3m3
, based on the episode "Neutopia".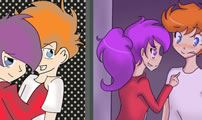 I added the latest 20 pics by
Sof-Sof
, and if you don't remember, she draws the Futurama characters in a chibi style, and has some.. well, wild ideas between male characters. You'll also find images of Fry reading, Fry and the Female Fry (from the "Neutopia" episode), Leela and the Female Fry, Fry and Leela in some images, also Kif and Amy, Zapp and Leela, an Amy pic and some other images that you'll enjoy, so go ahead and take a look.
I have a lot more of fanart and comics to add. I'll catch up and display everything at TFP no matter what.