News
by JavieR / November 6, 2014 / 09:51
Couch Gag intro for "Simpsorama":
Long time no see... yeah I know. Things have changed in my life this last year, but I'm still with TFP at the social networks :).
Today, thanks to Entertainment Weekly, I want to show you the
preview of The Simpsons episode "Simpsorama"
.. that in case you didn't know, is a
crossover episode with or beloved Futurama
.
This is the Plot:
When a time capsule containing a sandwich with Bart's germs, Milhouse's rabbit's foot, and radioactive ooze causes a catastrophe in the future, the Planet Express crew comes to present-day Springfield to stop the Simpsons from creating the mess in the first place.
The episode will
air on Sunday, November 9, 2014
on FOX
Looks kinda fun if you ask me. Some other good news is that the whole Futurama voice cast is back for this "final" glimpse of our favorite characters. I read somewhere that this episode is timed before the last episode "Meanwhile" in the Futurama universe, so it will know ruin that awesome series finale.
This episode was written by
J. Stewart Burns
. This meatbag wrote several Simpsons episodes, and 8 neat Futurama episodes:
"My Three Suns"
"Mars University"
"A Head in the Polls"
"The Deep South"
"The Cryonic Woman"
"Roswell That Ends Well"
"Where the Buggalo Roam"
"Neutopia"
Since the Emmy winner ep. "Roswell That Ends Well" was written by J. Stewart Burns, and according to the plot of the episode "Simpsorama", the Planet Express crew returns to the past to save the Future... I can see a solid episode, but well, we will have to wait.
Read you soon... hopefully.
Source:
Entertainment Weekly
by JavieR / June 3, 2014 / 16:18
Hey folks. Quick update. You can order the
Futurama 2015 Wall Calendar
at Amazon, order now
and they will deliver when available.
The calendar costs $15,19
: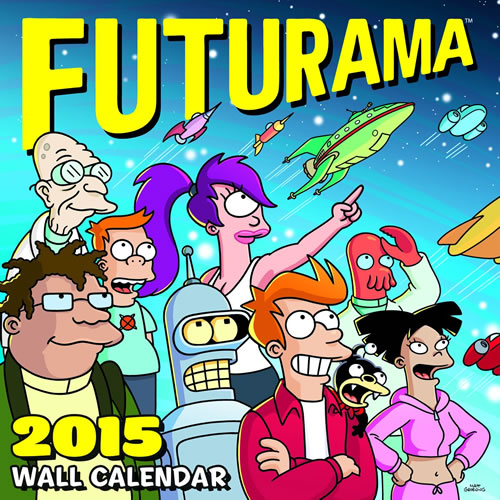 I'll udate this with images of each month when available too!
by JavieR / May 14, 2014 / 16:30
Hi. Dropping by to say futurama point . slurmed is not dead. I don't have time to pudate the site because of my dead-end- real-life job this past months.

I do have time to update the slurmed social networks that you can find on every page. There, you'll see the latest Futurama news, fanart and anytihng Futurama related.

Read you soon meatbags!
by JavieR / February 23, 2014 / 23:24
Hi again. I'm back on track with some neat news. Kidrobot reacently announced the release of the Futurama Series 2 vinyl figures of 3 inches each. This is great, we are seeing Futurama merchandise after the cancellation. Here you go some images (click to zoom in!):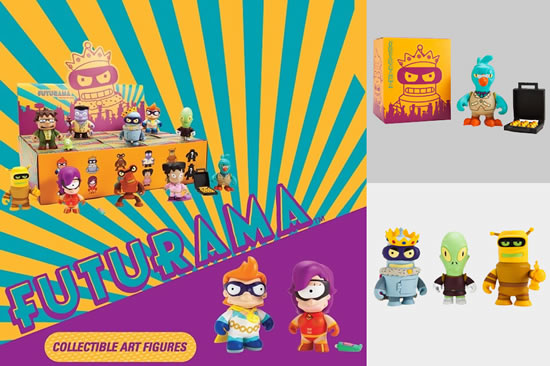 Al usual, the figures will come in blind boxes for more fun (and profit to Kidrobot haha) but it is a good chance to get more merchandise and support our loved series. There you go the list of new characters in this Series 2:
Hermes (with Brain slug)
Kif
Amy
Elzar (with Space Weasel)
Super King (the best one of the three!)
Clobberella (with Miracle cream)
Captain Yesterday
Calculon (with his stolen Oscar)
Hyper-Chicken (with his chicks in a suitcase)
Roberto (of course, with his knife.. Ha-HAA!)
Don Bot (with hat)
Hedonism Bot (with grapes)
UPDATE:
Here you go the 2 extra figures of Series 2 (click to zoom in):
Source:
Kidrobot.com
,
facebook.com/kidrobot
, ebay @ toot's toys
by JavieR / February 16, 2014 / 00:43
Well this is odd... kinda of. I've been neglecting the site a little, but in the last month I've been really busy with my dead-end real job, so I was unable to even update the
facebook
,
twitter
and the rest of the
tfp / slurmed.com
social media accounts. I'm gonna add some recent Futurama news and some new fanart for you to enjoy!
Futurama and 2 new Annie Awards
In case you didn't know. Futurama won 2 of the 3 Annie Awards it was nominated to..
in your face cancellation!!


Best General Audience Animated TV/Broadcast Production
Archer - FX Networks
Bob's Burgers - Bento Box Entertainment
Disney Tron Uprising - Disney Television Animation
Futurama - 20th Century Fox Television
Motorcity - Titmouse Inc.
Outstanding Achievement, Writing in an Animated TV/Broadcast Production
Katie Mattila - Kung Fu Panda: Legends of Awesomeness - Nickelodeon Animation Studio
Ian Maxtone-Graham, Billy Kimball - The Simpsons - "Dark Knight Court" – Gracie Films in Association with 20th Century Fox
Lewis Morton - Futurama - 20th Century Fox Television
Matt Price, John Infantino, Mike Roth, Michele Cavin, Sean Szeles - Regular Show - Cartoon Network Studios
Michael Price - The Simpsons - "Dangers on a Train" – Gracie Films in Association with 20th Century Fox
Paul D. Calder
didn't win in the
Outstanding Achievement, Editorial in an Animated TV/Broadcast Production
with Futurama.
by JavieR / December 19, 2013 / 23:55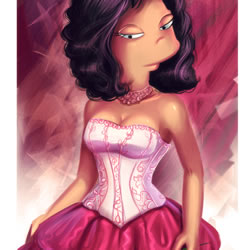 Hello people! As you know, Xmas is neat, Robot Santa will punish you and probably will kill you. In the meantime, why don't you enjoy this neat Futurama fanart!
Surprise,
MissFuturama
is around once again with more amazing of her Futurama fanart. Some images are about her fanfic (in russian only, sorry) about Bender's wedding... and you'll find scenes of adult Alice (MissFuturama OC) fighting with Bender's fiance, Bender and his fure robot wife, Fry, Leela and littel Alice (she is mad about the wedding) and Alice crying to Bender about the wedding. Other images are sexy portraits of adult Alice, Amy, adult Alice and some other girl and Anna (other OC). An image of Alice with some guns, Bender and Alice making a snowman with washbucket as the hat, and finally, 7 retro/victorian images of a series of the phantom of the opera, featuring Anny, Amy, Alice and Bender, Fry and Leela, and finally, 4 other OC.. Julie and Arthur, Beatrice and Kamy. Some other images include a self-portrait of MissFuturama!!
I've added some other fanart fron different artists! 17, yes 17 new arts by
!iMmOrTaL!
and his sexy situations (including a naked beach and a love tub) that I'm sure a lot of you will enjoy, so, check them out!!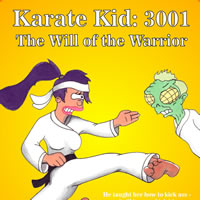 Finally, some neat 13 images by
Gulliver63
. As usual, he has created a lot of parodies from many topics. You'll find giant Amy, Leela and of course, bureaucrat Morgan Porctor. There's a fun parody of Fry and the Slurm Factory some Tech-y Amazons, Selma crush on Proctor, Karate Kid 3001 (with Leela and Master Fnog). There are 5 images in 1, featuring the fashion of Philip J Fry as a woman (inspired by that episode, you know).
Take care now, and don't forget to get a
Futurama Volume 8
on
Blu-Ray
or
DVD
for you or for a puny human you care about! Remember that big sales brought Futurama back in 2008!
PREVIOUS NEWS
NEWS ARCHIVE
from 2000 to 2014 » Enter the archive
Support TFP: