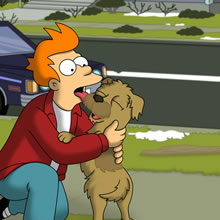 After more than a month, I've time to update TFP. I've been online with the social networks, but not as active as I hoped for. This time, a regular update with Futurama fanart from the fans and by the fans. I hope you like it... I always say that I'll update more often, but life has not a lot of time for me to update the site as before.. but that doesn't mean I'll quit doing it... no sir!
I'm here with some neat fanart by
The-Fighting-Mongooses
. A total of 11 new images, have a lot of neat stuff, like Leela with a Machete!, Leela in Fry's clothes, an intersting sci-fi poster, Bender porn drive (100,000 TB), Bender and Leela, Little Bender and little Amy, Fry and Seymour and som others that you'll like to see, I promise you!
I've added also 3 images by
Tastes-Like-Fry
: Fry's head in a honeycomb haha, Guenter the Monkey, + more (developing...)
I've also a new image by
Freako
that features a sexy Leela giving Bender a "decapitease". Sorry to
Vickram101
for not uploading his image supporting Futurama.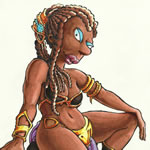 The last artist of the day will be
Kaspired
. 13 new arts are here, with crazy and neat ideas.. or both haha! You'll find a chalk drawing of Amy, Fry and Leela blending with a wall, a squid Leela, a sexy photo of Leela taken (stolen) by Bender, a parabox scene with Universe 1 Amy and Universe A Leela, a B&W Leela looking for work (after the last cancellation), a sexy LaBarbara as Princess Leia in Star Wars' "The Return of the Jedi", a PE veil/spaceship and some other that you should see.
I've to say goodbye now, I'm sleepy and I've work tomorrow, in the real world... sigh. Enjoy!