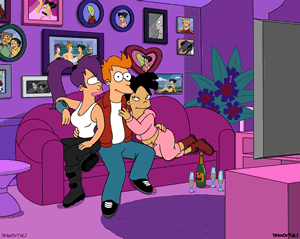 Hello people. Time for a new update in a long time over here, exactly 1 month :(. I've been around if you're following
twitter @slurmed
or
facebook.com/slurmed
.
I'm gonna start with 30 new images, yes, great images by a great fan and an artist., this guy is named
!iMmOrTaL!
and we have some neat stuff. Fanart like Bender and Amy in the shower and other 2 images featuring the couple from episode "Proposition Infinity". 3 Giant Amy pics inspired in the Nude Beach Planet from the "Bender's Big Score" movie and other nude (and cleverly censored) images from the planet and from Freedom Day! Another couple, Kif and Leela, some other sexy images... even Bender with his son from episode "The Bots and the Bees" and more (4) Planet Express employee photos!
I've also added 5 new images by
EsmeraldHeart
featuring some OC characters with Fry or Zoidberg too.
Another artist with many images is
SuperPrincessPink
, and she has created a lot of new Futurama fanart, exactly 9 images featuring some very colorful and strange situations, including Fry eating a
sandwich.
A fourth person is around here also with more fanart for you. I'm talking about
Leena
, and 3 of her images featuring her OC character, the daughter of Amy and Bender, Anny.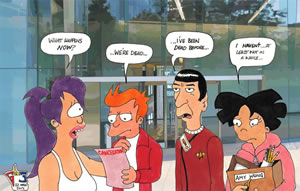 Finally, 23 new arts by
Gulliver63
. A lot of work dedicated on some interesting parodies like Zapp Brannigan and the Planet of the Women, Monster's University, Under the Dome, Mortal Kombat, I Dream of "Legal" Jeannie, Captain Morgan Proctor and more. Some other images feature Amy air surfing at night, Marmoset Amy, Amazonians funny images, inverted scenes of the guys as girls and vice-versa in situations like "I had snu-snu" and over Yivo in "Into the Wild Green Yonder". Check them out you'll enjoy them!
Enjoy the last episodes in a while, I really like them and please don't stop watching the re-runs and buying the glorious Futurama merchandise to support the series!