Hi. The
San Diego Comic-Con 2013
starts this Thursday, and Futurama will be there in some stands and events for your enjoyment. Here you go the more important Futurama related events:
THURSDAY, JULY 18
[ 4:45pm - Room 6BCF ]
I Know That Voice: The Documentary: Special Preview and Q&A
John DiMaggio (Bender) brings the cast and crew of IKTV together for an exclusive sneak peek at the most anticipated film about voice-over (in animation and video games) ever made! The panel includes also another Futurama actor, Billy West.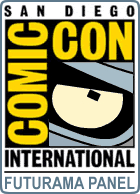 SATURDAY, JULY 20
[ 12:00pm - Ballroom 20 ]

Futurama - We're dooooooooomed! panel
Voice cast: Billy West, John DiMaggio, Katey Sagal, Maurice LaMarche, Tress MacNeille, David Herman, Phil LaMarr, and Lauren Tom will
read live scenes from the last Futurama episode
(for now).
Attending also executive producer David X. Cohen, creator Matt Groening, and a
cartooning showdown to the death!
(again hahaha!)
Now we go to the Futurama goodies that you can get only there (sadly for me, I can't get any of those, I'm very far away):
ACME ARCHIVES LTD.
2 new Futurama posters (limited to 99 unit each) will be visible (
and I think available
) at the Acme Archives Ltd. booth #5629, both designs by
Dave Perillo
:
TOYNAMI
Toynami finally decided to sell the Desructor with exclusive Gender Bender figure for $69,99, get it at booth #3229. Bad news, if you're not at the SDCC, you get no Destructor apparently:
KIDROBOT
You wanted a new 6 inches Futurama figure? Why not Zoidberg? grab it now for $50 at the
Comedy Central shop
.
Exclusive from the San Diego Comic-Con Universe A Bue + Glow in the dark Dr. John Zoidberg
!!!
BONGO COMICS
Step into booth #2519 and check out 2 neat Futurama exclusives, a Leela/Amy Lobrau Calendar Pin-up and also an exclusive, Futurama Comics, 104-page, survey of stories called "Futurama Comics to Infinity! TPB"
FOX HOME ENTERTAINMENT
They will be giving a neat calendar away at their booth during the show, a neat one I must say!
Lucky dogs that can go to the San Diego Comic-Con, take photos and mention
@slurmed
on twitter to see what Futurama amazing stuff you see so the rest of us can see it too!
Source:
San Diego Comic-Con 2013
,
Toynami
,
ACME Archives
,
MTV Geek
,
Kidrobot
,
@morrowchris