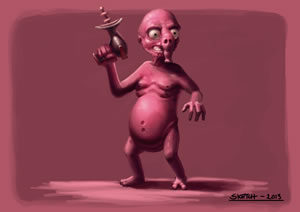 Ok. I'm back (yet again) around here. I've been around in the social networks, but I always need to come back and show you some ot the neat new Futurama stuff from new and known artists around here. This guy, creates amazing Futurama portraits of the characters with great quality, and he does that like he was wearing Lightspeed Briefs all the time hahaha. I'm talking about
Klungart
(Christoffer) and his neat Futurama speedpaintings. There are currently 8 images, featuring some of the main characters, like Fry, Leela, the Professor, Zoidberg, Kif and Nibbler and also some secondary ones like Morbo and Nudar. In case you're curious about how he creates his art, please visit his
Klungart YouTube channel
, and be ready because perhaps you can see more of him in the future.
I've added no less than 16 new images created by this great guy
Immortal
with many clean and neat images of Fry and the girls in the sauna, some episode situations.. Leela and Amy on nectar, Paparazzi Bender, Mecha hermes, Leela and Fry in bed and many more. There's also one new image by
Cap'n Skusting
featuring a parody of the Blue Öyster Cult album "Cultösaurus Erectus" as the "Blue Omicronian Club - Cultosaurus Zoidbergus".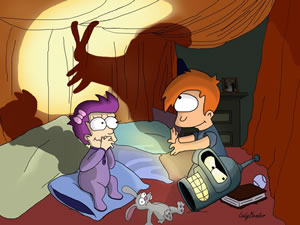 The final artist of today is also a new one. She is from Italy, land of the Crocodylus Pontifex, and her name is
LadyBender
(Sara). I've added today 8 of her Futurama images, including 4 with some OC characters, Yancy and Audrey (Leela and Fry's kids) in a family photo, camping and playing with silhouettes, Yancy jealous of baby Audrey and Yancy waking up Mom and Dad. There's also one pic of Fry and Leela as elephant seals from the episode "Naturama", Fry and Leela kissing, The whole Crew spending Xmas in the hospital for the birth of Audrey and a wedding photo. Enjoy and have fun!