Hello everyone, sorry for the loooooong break. I wanna start with the
Emmy award that Maurice LaMarche won.. 2nd year in a row
for
Outstanding Voice-Over Performance
, with the Futurama episode "The Silence Of The Clamps" written by a good friend,
Eric Rogers
. Futurama didn't win in the main category, Outstanding Animated Program, but no matter, there's 1 more Emmy win and 1 nomination for the series!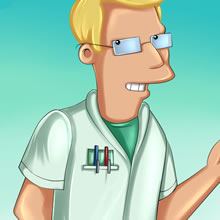 So, I've not added fan stuff in a while, I'm gonna change that.
Lets begin with a girl with a lot of talent. I have not added 25 of her neat fanart images, and I'm trully sorry for that. Of course, she is the well known
MissFuturama
.
The images vary a lot, from her neat original characters like Alice and Julie in many fun and sad situations. You'll find shippy images of Fry and Leela, Fry classic meme including Alice, scenes of children making fun of Julie and Alice deffending her little sister, OC of adult Kammy (Kif, Amy and Leela's daughter, another OC by MissFuturama), a very Sexy Leela, some sad scenes.. one of Leela and other of Alice, and as you can see today, even the Whale Biologist got his spotlight in her drawings.
I've added 8 images by
Anichysaur64
featuring some of her original characters, like her version of the human Bender and some others, even a meme of Fry and his OC son. Another
artist today is a new one
, featuring 14 new fanarts, please welcome
esmeraldheart
... his images go from OC characters by him and by other artists, to a romance between Leela and Yancy Fry.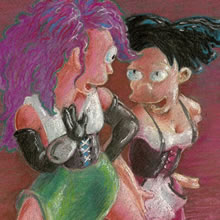 At last, we have the fanart of a good friend,
Kaspired (Mike)
. He has created some neat crossover art, going from Leela in Piero Manzoni style, Leela and Amy in a Lady Gaga meat dress, Leela and Amy in Rodden Berry style and a crossover of Leela and the cover of Blue Oyster Cult's album "Agents of Fortune". Other images feature Leela and Amy dancing the stupid chicken song from the episode "Fun On A Bun", 3 images of LaBarbara (one in a giant martini glass that looks preatty neat), and even April (Professor's girlfriend in ep. "300 Big Boys") slim, fat and male variations.
Have fun and I'm still behind with Futurama stuff from the fans. Don't worry, I'm catching up!