PUNY HUMANS, USE

TO REGISTER YOUR DOMAINS
News Archive
July, 2012
by JavieR / July 25, 2012 / 10:37
Well, here you go my thoughts and point of view (and perhaps review) of last week Futurama episode, previous to the premiere of a new one tonight at 10pm/9c on Comedy Central.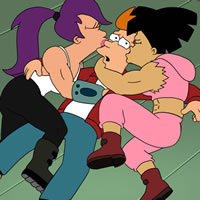 7acv06 - The Butterjunk Effect
Ok. This episode was very linear with not peak moments, but it was not that bad. It was fun to see Fry an Bender making "cats fighting" like sounds when Leela and Amy supposedly fight each other.
They learn about the Butterfly Derby while making a moon rock delivery to the moon, and it was nice to see some folks from the "The Series had Landed" in the moon again, specially the Moon farmer. It was also interesting to see Leela and Amy team up.
When Leela and Amy enter the Butterfly Derby sport, they get addicted to Nectar (a natural drug) to win matches (since they were always loosing).. some other reviews say that it resembles a Simpsons episode of Marge that does the same, but I've not seen that episode.
Later they run out of the drug, go to Kif's home planet to get more, and Fry gets sprayed by a giant male butterfly, and that pheromones make him irresistible to Leela and Amy... but that story ends when the girls decided to give up the Nectar.
Finally they fight and where about to loose the final Butterfly Derby match, and Fry comes out transformed to a male Butterfly (kinda hideous and lame haha) that attracts the competitors of Amy and Leela, and the 3 had live sex on the Derby... Later on inside the Fry Butterfly lies the real Fry, to solve the continuity problem for upcoming episodes.
Ok, so the final was not that great in my opinion, it was predictable that Fry would save the day. It had funny moments, when Leela and Amy kiss Fry in front of Kif, and both the guys get verbally abused by the girls on Nectar, or the trainer that gives them Nectar in the first pace. I do feel like this was a very rushed episode, that left the stories of Amy neglecting Kif and kissing Fry and the relationship of Fry and Leela, both in the air.
This episode was written by
Michael Rowe
. He has written "Bend Her", "Proposition Infinity", "The Futurama Holiday Spectacular" and "Fry Am the Egg Man".
1.19 million
viewers saw the episode, up from previous episode in July 11th. Still, the agreement between DirecTV and Viacom was reached after this episode aired, so I think Futurama ratings will go up today with the new episode and more people able to watch it.
Source:
TV by the Numbers
by JavieR / July 24, 2012 / 01:06
Ok. Thanks to the people from
DecalGirl
, I've received
2 samples of the Futurama skins
they have for a very large range of devices, including
cellphones, consoles, laptops, tablets, media players and more
. I requested a
Matte Bender face skin for a Nintendo Wii
and a
Glossy Hypnotoad skin for a laptop
.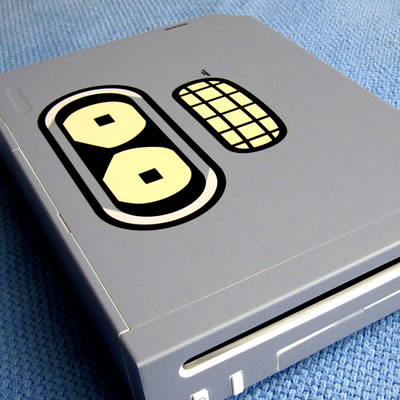 Packaging
The skins came in a big cardboard envelope with an extra cardboard so the skins can't be ruined if folded. Each skin has instructions on how to apply the skin to the device. No issues with that, even when the skins came from USA to Ecuador.
Print Quality
I've to say that the quality of the print is excellent, even when the Bender skin I chose is grey. I really liked the matte finish, because i'm not a fan of glossy skins. No complaints there, nice colors and quality. The grey does look dotted from very close, but it is not noticeable.
Material Quality
It is very flexible but durable. I had to re-install 2 parts of the Wii skin because it was a little off, but I had no problem re-applying the skin.
Applying the Skin on the Nintendo Wii
(click the thumbs for bigger images)
)
You've to check all the parts of the skin before you apply them. I started with the bigger ones. The instructions mention to start with the little ones, but I wanted to see Bender on the Wii already!)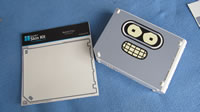 You've lift the skin part gently from the edges, in case of the front of the Wii, I added the middle first, so it can be centered with the disk slot and buttons.
Then I applied the Game Cube control and memory covers. I started from the side where the covers move, and ended in the dented part where you open them. I noticed that the cover doesn't have that dented part, but you can cut it a little or push it in order to fit, since is a flexible material.
And finally, here you go the final result. It looks great in vertical or horizontal position. Now I only wish the Futurama game can be played on the Wii.
Remember that you can choose many models in the
Futurama DecalGirl page
, like the Hypnotoad, Fry, Bender, Leela, Planet Express, Slurm (with Slurms McKenzie), Nibbler, Professor Farnsworth, Zoidberg and more.

I'll add a photo of the real glossy skin soon :)
, but I've no laptop right now to apply it, but don't worry since is a single skin. Bye.
by JavieR / July 23, 2012 / 00:32
Ladies, Gentleman and Smizmars!
Futurama is once again
nominated for 2 Emmy awards
this 2012!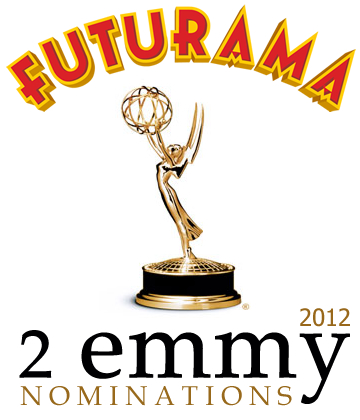 Outstanding Animated Program 2012
American Dad - Hot Water
FOX
The Penguins Of Madagascar: The Return Of The Revenge Of Dr. Blowhole
Nickelodeon
Futurama - The Tip Of The Zoidberg (written by Ken Keeler)
Comedy Central
Bob's Burgers - BurgerBoss
FOX
The Simpsons - Holidays Of Future Passed
FOX
Outstanding Voice-Over Performance 2012
Dan Povenmire as Doctor Doofenshmirtz
Disney Phineas And Ferb: Across The 2nd Dimension
Maurice LaMarche as Calculon/ Clamps/ Donbot/ Hedonismbot/ Hyperchicken/ Morbo
Futurama - The Silence Of The Clamps
Brenda Strong as Mary-Alice Young
Desperate Housewives - Give Me The Blame / Finishing The Hat
Hank Azaria as Carl/ Chief Wiggum/ Comic Book Guy/ Duffman/ Mexican Duffman/ Moe Szyslak
The Simpsons - Moe Goes From Rags To Riches
Rob Riggle as Noel
Disney Prep & Landing: Naughty Vs. Nice
Kristen Wiig as Lola
The Looney Tunes Show - Double Date
Congrats to
writer
and executive producer
Ken Keeler
for his 2nd Emmy nomination with Futurama (episode "The Devil's hands are Idle Playthings" was nominated in the same category in 2003) and to Maurice LaMarche for his 2nd nomination with Futurama, and
he already won last year in the same category
for his work in episode "Lrrreconcilable Ndndifferences".
This is the
6th Emmy nomination
of Futurama in the
Outstanding Animated Program
category.
Winner
"Roswell That Ends Well" (2002)
"The Late Philip J. Fry." (2011)
Nominated
"The Sting" (2004)
"Jurassic Bark" (2003)
"Amazon Women In The Mood" (2001)
"A Big Piece of Garbage" (1999)
Futurama has a
total of 5 Primetime Emmys
, the other 3:
Maurice LaMarche for Outstanding Voice-Over Performance
(For playing "Lrrr & Orson Welles" in episode "Lrrreconcilable Ndndifferences")
Rodney Clouden for Outstanding Individual Achievement in Animation (with episode "Parasites Lost")
Bari Kumar for Outstanding Individual Achievement in Animation (with episode "A Bicyclops Built For Two")
Source:
Emmys
by JavieR / July 19, 2012 / 01:18
Sorry, I was supposed to add this review before the new episode this Wednesday, but I didn't. So, here you go, writing this while the new episode ended, but I'll say what I've to said about that new one soon.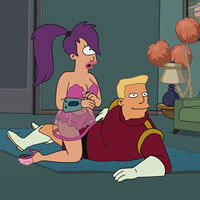 7acv05 - Zapp Dingbat
I like how this episode developed, since now Mutants can go outside the sewer (but they stay there haha) since the divorce of Munda and Morris Turanga, Leela's parents.
Each character was expanded. Munda finally used her knowledge in alien languages, that was only seen used when Leela was "abandoned" in the Cookieville Minimum-Security Orphanarium, and ends up with Zapp. I've to say that Zapp was a little off since he is always looking for hot alien babes, but hey, Zapp is Zapp.
As for Morris, he decided to be the sewer surfer he was before he married Munda, and surfed all the big sewer waves in the world, and he ended up chilling out with no worries at all.
Leela meanwhile tried to stop Zapp and Munda relationship by talking to her mom, and later trying to seduce Zapp with no success. Only when Munda finally realizes that he is a scumbag captain (like Leela realized in "Love Labor's Lost in Cyberspace") she leaves him. The shark aliens are featured at the beginning for a reason, so Morris can surf the Nimbus between the energy waves the aliens shooted (Zapp made them the aliens mad as usual).
I really liked the jokes, like the Mos Def Cantina scene, the Wave surfing/Leela spying Munda scene, and many jokes that were well divided in the entire story.
This episode was written by
Eric Rogers
(aka
@ERogTweets2Much
). He has written some neat episodes, including "Anthology of Interest I" (Terror at 500 Feet) and "The Silence of the Clamps". He also has written many of the Futurama Comics!
1.112 million
viewers saw the episode, up from previous episode in July 4th, but I expected more people watching it. I guess is because
my thoughts on the previous episode
somehow.
Source:
TV by the Numbers
by JavieR / July 13, 2012 / 02:13
July 4th, 2012 at 10pm/9c was the premiere of a new Futurama episode... a coincidence with the Fireworks everywhere in the USA. This is what I've to say.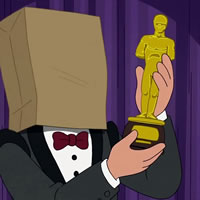 7acv04 - The Thief of Baghead
I liked this episode, but in my opinion is the lowest one (and that's about 7/10 for me). It had the Futurama consistency, but had many easy gags. I really liked the aquarium crazy idea of water held by invisible fields, and that you can just stick your hand inside (and you know the results thanks to Fry)... in fact,
about time we see Fry learning something new about the Future!
It was also fun to have a 7 Oscar winner actor (2 for best actress) that always used a paper bag on his head. Bender fits nicely in the Paparazzo world, being as annoying as those guys (sorry, but that's true).
The whole extracting of the vital life (aka soul) by seeing Langdon Cobb's true face is kinda believable but it is kinda forced, and that he is a being that has a mushroom dog to keep his ego, is more forced in my opinion. The contest of best acting is great, giving Calculon more minutes in the show, and truly dying, just to finally loose against the best actor ever.
The end is kinda nice but since is has some fantasy with the "souls" going back to the body skin of the characters, I can say is very sci-fi... I dunno, is how I see it. Overall I enjoyed the episode, but going with the rhythm that Futurama had in the previous 3 episodes, this one gets a little short.
This episode was written by
Dan Vebber
. He has written many nice episodes, including "The Birdbot of Ice-Catraz",
"Obsoletely Fabulous"
, "A Clockwork Origin", "Cold Warriors".
1.06 million
viewers saw this episode, I don't think because the fans didn't like the episode, but because of the Fireworks... 4th of July and all that.
by JavieR / July 12, 2012 / 13:17
Hi. If you didn't watch the Futurama Live videocast after the Episode "7acv05 - Zapp Dingbat", shame on you. It has many funny moments and a lot of information about the next season in 2013 and Future episodes from the 2012 season. The live video featured Matt Groening, David X. Cohen, Billy West, Maurice LaMarche, John DiMaggio, Michael Rowe, Peter Avanzino and Patrick M. Verrone with the MakerBot 3D printer.. all this moderated by Jake Wallace.
WATCH OUT! EPISODE SPOILERS AHEAD!
Guenter the monkey will be back with Dr. Bango (an ape) (2013)
Cubert will also be back in episode "Saturday Monday Funpit" (a 3 part episode in form of saturday morning cartoons) (2013)
Fry will meet Lrrr's teenage son (same one from episode "The Problem with Popplers") at Lrrr's palace in Omicron Persei 8 (2013)
No classic Anthology of Interest episode (with the What If machine), but each year ends with a 3 part episode (like in 2010 and 2011)
Season 7A finale "7acv13 - Naturama" will feature the Futurama characters reborn as wild animals
A part from that spoilers, you can see a collage of the rest of the Season 7A (2012) at the end of the Videocast, and also, you get to see the
Exclusive Kidrobot SDCC 2012 Futurama figure, the Mighty Hypnotoad (new photos)
!
Here you go the video
(forward to minute 15)
.
Thoughts, comments, ideas, corrections, notes or anything else, you can do it right here!
Almost forgot, this is the message in Alien Alphabet (Language) 1 written on the board behind those guys:
Email TheZaxxar@gmail.com and you might win a prize!
That decoded message won 5 of 50 people that decoded the message, an exclusive Kidrobot Hypnotoad figure signed by Matt Groening.. I'm jealous now because I didn't see the live show ( I was not at home
:(
)
by JavieR / July 2, 2012 / 02:50
UPDATE @ 2012-08-02

TVShowsOnDVD.com
has information that the exact
release date of the Futurama Volume 7 will be on December 11th, 2012

Extras of the DVD / Blu-Ray discs are:
Full-length Commentary on All 13 Episodes
Bonus Commentary on Episode 7.02, "A Farewell To Arms," by the Animators of Rough Draft Studios
Alternate Ending for Episode 7.05, "Zapp Dingbat"
Christopher Tyng's Big Score: A Jam Session with Futurama's Innovative Composer
Futurama Karaoke: Sing Along with Your Favorite Characters
Möbius Trip: Infinite Futurama Screen Loops
Too Good For TV: A Smorgasbord of Deleted Scenes
2012-07-02
erhaps you've already seen the remake that Futurama volumes 1 to 4 covers are getting, but I bet you've not seen the
new cover of the upcoming Season 7 Blu-Ray/DVD discs
that I guess will be available on X-mas 2012.
Click the images for a bigger preview!
Has you can see, this upcoming volume will feature Dr. John Zoidberg. Our favorite lobster alien is holding the harmless device he used in his first appearance on the Series, episode "1acv02 - The Series had Landed". I really like this one, because of Zoidberg of course, but also because of the neat style they are using.
Also, here you go the new covers of volumes 1 to 4, that
will be available on July 17, 2012 at Amazon
,
since there's no date of the re-release yet
:
I really like them, I'm partial for the Amy one, as an Amyholic + the sexy spacesuit, it is a big plus! The Professor one is also neat because of the awesome colors and the mad scientist pose!
I hope you enjoy, and if you want to support the series, you can buy this re-release volumes with neat new covers, I'm sure those will be released soon!
Source:
Homer Bender's Facebook page
,
TVShowsOnDVD.com
& others...
Support TFP: