PUNY HUMANS, USE

TO REGISTER YOUR DOMAINS
News Archive
May, 2012
by JavieR / May 22, 2012 / 01:29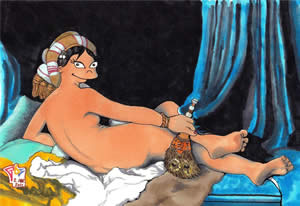 Hi again. Sorry for the late late update, I've been very active in the web 2.0 (also called social networks, you know... twitcher and similar). Today, even when I have a headache, I would like to add some fanart that has been around for a little while, and I'm going to start with
Gulliver63
. A fanart I didn't add earlier is the mix between Leela Jetson and Turanga Jane! Gould find many interesting Colossal women arts, many featuring Amy, and also Morgan Proctor. You'll also find some movie and comic covers featuring Leela, Amy and Morgan. Crossovers are also here, with 3 images of The Matrix where the agents are bureaucrats instead and Fry is Neo. Other crossover features the PE crew in Star Trek outfits, Chronicles of Leela (Riddick), Amy painted nude as a famous paint "La Grande Odalisque", Amy, & Kif + Fry & Leela kids, and some others you'll not want to miss.
Anichysaur64
created many images featuring mostly her original characters (OC) Felicia and Lucas, her version of human Bender, and some images of Yancy (Fry's brother) with Leela that make Fry jelous...
15 new images were added thanks to
Leena (LeenaKill)
, featuring her character Anny (OC daughter of Bender and Amy) that show us different layers of being part human but also part robot. You'll see her as a kid and as a teenager in many situations, even with Alice Fry (created by MissFuturama) and showing us that it is not easy to be both things. Other images he added feature tribute drawings of adult Alice with Leela, Alice as a night hunter with Bender, the Futurama characters as the Avengers, and some others.
Don't forget to follow us in the main social networks mentioned in the top of the page for the countdown to the new Futurama episodes.
by JavieR / May 8, 2012 / 15:45
Kudos to
Jeff
for organizing this! The amazing
Billy West
(voice of Fry, Zapp, the Professor, Zapp and even more) will have a VO record on Friday, May 18th, 2012. while he is doing that,
it would be awesome to hear our favorite Fry/Zoidberg/Professor memes
with the real voice.
That's why now, you can go to
this reddit post
and add you favorite memes, the ones that get more upvotes, will be voiced by the Billy West himself. You can also do that at the
Futurama facebook page
, and the ones with more likes will get featured. 20 memes in total will be voiced, so go ahead and post, post, post!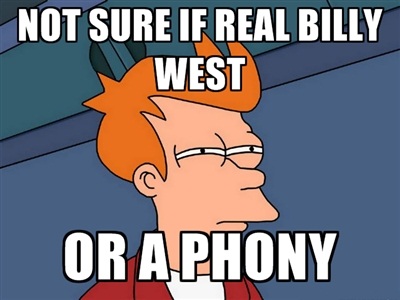 I added my own Fry meme for today. Of course, I've added this info a little late, but if you're on
twitter@slurmed
,
facebook.com/slurmed
or
google+slurmed
... you already knew this. You can also reach us on
pinterest.com/slurmed
for a collection of Futurama fanart, merchandise and more Futurama crazy ideas.
In the meantime, please enjoy this brand new video preview called "The World is ending again" from episode "7acv02 - A Farewell to Arms":
by JavieR / May 2, 2012 / 01:23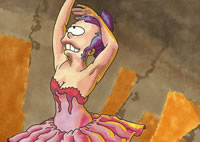 Hi people. It is time for more Futurama fanart, even if we are really exited about the new episodes airing this June, 20th (in just 50 days). Today I would like to start with a good artist around here, his name is
Kaspired (also Mike)
and I've added his more recent fanart. As usual, he has created some very interesting images, like Leela with Angus from the episode "Fry am the Eggman", Leela as a Purple Swan and other of Amy as a Black Swan (both reference to the movie of the same name), a sketch of Zoidberg being scared, the Professor telling the crew that mermaids don't exist.. with Umbriel in the back, a cute Amy portrait with backlight, and one of Amy multiplied in all her suits from BWBB movie with a single Leela! I almost forgot, there's also an Amy as Jeannie from "I dream of Jeannie".
I know I'm not being fluent adding the fanart, but right now, I just added 3 new fanarts by
Tastes-Like-Fry
, one featuring an up-scaled pixel image of her OC character Lucy, an image of Fry and Bender dancing, and a shippy image of Fry and Leela. I've also added a photo by
Alanquest
featuring himself with an amazing Robot Santa painted in a (I think he's) chimney.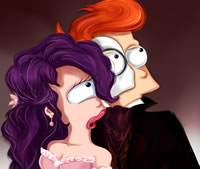 The last artist of the day is the talented
MissFuturama
with 10 images. 3 of them feature Anny (LeenaKill's OC).. one saying goodbye to Bender, other shocking little Alice with electricity and the last one is Anny as a teenager. There's also
Jennifer Morton's OC Jenny
with Fry. More of Alice: her dancing steps, a yikes one with Zapp, one with her mother Leela, and one watching a scary movie with Fry (and Leela lad about it). Twe last neat images feature an old Calculon, and a parody of the Phantom of the Opera with Fry and Leela.