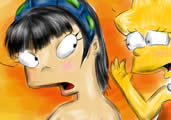 Hi once again. I've been around, but I'm having a space flu again (thanks to a concert + people in my work being sick). I'm going to start with some nice Futurama fan stuff today. Take a look to these 10 new images created by
Lenna
. She has nice images like the daughter of Amy and Fry (named Ginger), Fry vs Marty McFly (from Back to the Future), her original character Anny (Bender and Amy's daughter) , another OC daughter of Fry and Amy called Ginger, some nice shippy pics of Fry and Leela. Some crossovers like Fry and an adult Lisa, Kif vs. Roger from Family Guy, Lisa talking with Anny and Leela (Universe 1) as a angel.
Gulliver63
also has created many great Futurama fanart, and tonight I've added 14 of his images, featuring his favorite.. crossovers: Nibbler and Foghorn (from Looney Tunes), Hercu-Leela (ooh the irony), a nice parody of a famous piece of art called
Le déjeuner sur l'herbe
by
Édouard Manet
. 2 funny images of a series called Beanstack Amy, Amy playing volley, Leela with nibbler in a hoover scooter, a Leela face study, 3 amazonian pics, on in the old carton style (also featuring Zapp and Kif) and some others.
The final artist today is
MissFuturama
with some neat 10 fanart images. Many of them feature her OC character Alice, daughter of Fry and Leela.. and her side-kick (as she see it) Bender. You'll see her partying, hugging Bender (with a neat scene in the background), kicking ass (like her mother), as an adorable badass, dancing the Bender (with Bender), in her room, with her parents in bed, as a mean Alice (featured today) and a very sad scene of Bender comforting her after some attack.. and Alice is wearing his dad jacket. There's also a portrait of Leela, Fry and Bender, and one of Bender with a robo-hooker.
I've to sleep now, hopefully I'll update the site again very soon.