PUNY HUMANS, USE

TO REGISTER YOUR DOMAINS
News Archive
September, 2011
by JavieR / September 23, 2011 / 00:17
Hi people. Planet Express finally arrived to my country, Ecuador and I received the Futurama Monopoly collector's edition sneak peek package from USAopoly. (I don't know why USAopoly hired an intergalactic delivery company to send a package to Earth from Earth =D). It took them some time.. but the delivery was successful!

This package is of course a preview, the monopoly has not been released yes, is on preorder status. Here you go some photos (click the images for a bigger preview of 1920x1080):


As you can see, there's also a very close.. close-up of 3 items that will come with the Futurama Monopoly collector's edition, the Resi-Domes (Houses) and the People Hives (Buildings) and the cherry on top, the exclusive Golden Bender Token. The other exclusive is Leela's Boot token and those are only available if you..


I can say that the Golden Bender Token is very very clool. It looks better than the preview official photo (that many people said it looked kinda creepy) and has a nice weight, suitable for playing the monopoly and have some out-of-this-world fun.

The Resi-Dome and the People-Hive previews are also nicely done. The Resi-Dome is a thinner plastic compared to the People Hive (because the building is higher), but both the figures look great and feel good and smooth in your hands.

There are some other 2 nice extras in the sneak peel package:


A sheet of 500 dollar bills from the Futurama Monopoly featuring Al Gore! + An interesting Planet Express delivery (pink) form to corroborate the items of the package (that is also an introduction to the package and some info about it) wrote by Amy Wong! She said it included the Chance and Comm. Chest cards.. but I didn't found any.. what I did found was the Resi-Dome and People Hive instead.(I edited the black and blue parts because iof the D.O.O.P. latest regulations)

Finally, a mini version of the Futurama Monopoly box, that has sadly nothing inside but pure precious oxygen. I'll add a photo later :)

For more information of what will the real Futurama Monopoly will include, please visit this previous post I made:

Preorder it because you only have 1 week left! After that, no exclusive tokens =(

by JavieR / September 19, 2011 / 01:44
Hi. I know I've not updated the site like I should.. it has been a busy week for me in my work.. and I'm adapting some stuff of this page because site is going to be relocated in other hosting server very soon (if you see some problems, it should be normal until the site is relocated), so I've been busy with that too.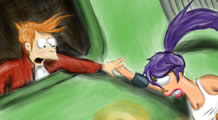 The first artist around here today, is
Leena
(aka LeenaKill). I've added her latest 14 images, featuring various interesting situations and even an OC Character. From Zoidberg babysitting Maggie Simpson or Kif fighting Roger from American Dad.. to some interesting shippy images of Fry and Leela flying in a balloon, jumping to the PE ship or simply hugging. There's also the OC character named Ann and also Anny Rodriguez.. the daughter of Bender and Amy (based on episode "Proposition Infinity"). There's also a very nicely done portrait of the Real Leela that has a great face expression.
Sof-Sof
is also back again with her 7 newer images. Some of them feature the female version of Fry flirting Zapp (you know her). Other images feature Leela from episode "Yo Leela Leela", Fry as Captain Yesterday, Fry with his egg from episode "Fry Am the Eggman" and some others.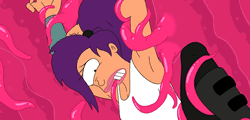 The final fanart is from a great artist and also a freak.. =D , I'm talking of course of
FuturamaFreak1
(aka Freako) with his amazing image of Leela inside the Space Whale from episode "Mobious Dick". This interpretation is very interesting and very well done by Freako as usual. It shows and unseen moment when she becomes one with the whale before it guides the big space mammal to the Planet Express building.
by JavieR / September 10, 2011 / 23:14
Sweet Zombie Jesus! Futurama did it!
In the 2011 Creative Arts Emmy Awards ceremony, Futurama took home the 2 awards it was nominated for.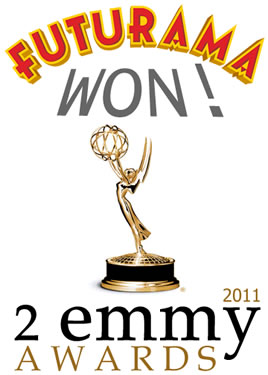 Outstanding Animated Program 2011
The Late Philip J. Fry
Comedy Central
Matt Groening, Executive Producer;
David X. Cohen, Executive Producer;
Ken Keeler, Executive Producer;
Dan Vebber, Co-Executive Producer;
Patric M. Verrone, Co-Executive Producer;
Josh Weinstein, Co-Executive Producer;
Eric Horsted, Co-Executive Producer;
Michael Rowe, Co-Executive Producer;
Lee Supercinski, Produced By;
Claudia Katz, Produced By;
Gregg Vanzo, Animation Executive Producer;
Lewis Morton, Written by;
Peter Avanzino, Supervising Director/Directed By;
Scott Vanzo, Director of Computer Graphics;
Ira Sherak, Assistant Director
I really want to congratulate all the Futurama producers, writers, directors, animators, voice cast that keep creating some great stories and work their (not so) shinny metal asses off to give us the fans some very special moments. Congratulations to Comedy Central because it believed in Futurama, and to the Futurama staff that has been active on Facebook and Twitter, giving us some news or their point of view about the series!
Outstanding Voice-Over Performance 2011
Maurice LaMarche
as
Lrrr & Orson Welles
Futurama - Lrrreconcilable Ndndifferences
Congrats to
Maurice LaMarche
that has been very active in the social networks, chating with the fans and being very open with everyone.
SOURCE:
Creative Arts Emmy Awards 2011:
Outstanding Animated Program
&
Outstanding Voice-Over Performance
by JavieR / September 7, 2011 / 21:54
UPDATE - September 8, 2011
There's an
exclusive video preview of the Fleischer style animation at EW.com
that you must see!
Also, Comedy Central Insider has released the designs of Professor Farnsworth and Amy Wong in that same Fleischer style (+ a previous image of the PE crew):
Get ready to watch this episode, we need more an more fans to get even bigger ratings! Today at 10pm/9c on Comedy Central.
ORIGINAL ARTICLE
Ok, A quick update with the latest images and a new video preview of tomorrow's episode
"6acv26 - Reincarnation"
. The video shows a part of the episode made in 8 bits and pixelated characters, like an 80's video game, that was animated pixel by pixel(might not work for the UK, Australia or Canada):
There you go also some image previews of the old school animation, better known as the
Fleischer style animation
:
SOURCE:
Comedy Central Insider
by JavieR / September 6, 2011 / 00:34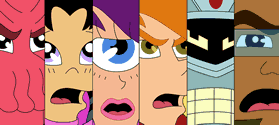 Hi. I'm kinda sleepy because of this space flu, but I didn't want to leave TFP without a fanart update tonight. I've uploaded many neat stuff from the fans, and I wanna start with
TheFightingMongooses
and 4 of his latest images. All those images feature a neat scene of the newest episodes.. like the Humplings from episode "Yo Leela Leela", the British version of the Planet Express crew from "All the Presidents' Heads", The sweet last moment of the Season finale "Overclockwise" with Fry and Leela reading their fate together, and finally, an art from the upcoming episode "Reincarnation" with the Crew as anime characters
(don't forget to watch it this Thu. at 10pm/9c)
.
Two other artists tonight are:
Alsiza
with a nice image featuring Eve Leela in a very neat style that I really liked, specially the loose hair and grainy texture (and is very well censored),
Tastes-Like-Fry
has also a new fanart featuring Fry and Leela and the "chain of command" from episode "Amazon Women in the Mood"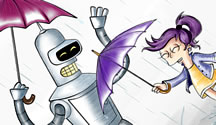 The last artist of the night is very well known, she is
MissFuturama
, and I've added her latest 6 fanart images, and I'm sure all of those are neat arts. One image features Fry with robot Leela from episode "Rebirth", and the other five images with her OC, Fry and Leela's daughter
Alice
. The situations include Bender babysitting her, Alice waving (B&W), with Bender walking in NNY, Sleeping (a very beautiful scene) and my favorite.. dancing in the rain with Bender and Umbrellas. Please take a look to this amazing images, even when Alice is an OC it looks very well done.