PUNY HUMANS, USE

TO REGISTER YOUR DOMAINS
News Archive
July, 2011
by JavieR / July 27, 2011 / 02:02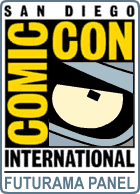 Hi. I am a little late with the info that appeared in the
Futurama Panel at the San Diego Comic-Con 2011
,
but that's because there was not a lot of
new info about the upcoming Season 7A and 7B for 2012 and 2013 respectively, but mostly some fun moments with the creators, voice cast and the fans.
[ SPOILER ALERT ]

UPDATE - July 28, 2011

New Sneak Peaks from Futurama Season 7A (and perhaps 7B) that will air in 2012 and 2013
Planet Express will get a new Soda Machine and Bender will impregnate it

Hermes will realize he is less efficient than a machine, so he will chop some unnecessary parts of his body and will become a cyborg

Calculon will compete in the World Acting Championship... to the death!

Leela will be shocked when Zapp looses interest in her and he starts a romance with... her mom!

We will discover that Professor Farnsworth's parents are still alive and living in the Near-Death Star
NEW VIDEO WITH THE SPOILERS OF FUTURAMA IN 2012-2013 + OTHER WORKS THE VOICE CAST HAVE BESIDES FUTURAMA:
Clips from Season 6B (upcoming episodes - 2011)
Zoidberg treating Fry's pin wounds with acupuncture

The Nimbus attacking Earth, and tractor beaming a saran-wrapped New New York into space

The Professor turning into a yeti
Original sneak peaks:
David X. Cohen (or apparently Bill Morrison) mentioned that Futurama was renewed for 2012 and 2013 (we already knew that in March, 2011)

"The mood is better now [..] Pressure's off now that we're in our second life, we didn't expect to be back" was mentioned by David X. Cohen

Billy West said that "cause he (Nixon) drafted me in 1970" when a fan asked "Why does the show hates Richard Nixon?"

From the final canon episode of Futurama Season 6B, "6acv25 - Overclockwise", we knew that Bender gets over-clocked and had no interest in human affairs ... but we didn't know that "Fry and Leela are considering their own future together"

We already knew that the non-canon final episode of Futurama Season 6B, "6acv26 - Reincarnation", had 3 different animation styles: 80's videogames, Fleisher B&W style and the Anime style.

Apparently, besides the Anime part of episode "Reincarnation", the fans also saw a preview of the 80's Videogames and the Fleisher B&W style animation

"

including some Betty Boop stylings and a Dig Dug sequence"

Apparently there was also footage from the episode "6acv22 - Fry am the Eggman". Professor Farnsworth "realizes that this creature is actually Bonus Vampirus"

It was mentioned that Scruffy will be featured more in the next Season (7A and 7B), and that kinda joking, the producers said that "(he will) get a notary license next year"

They officially released the Head-in-a-jar App for iPhone and iPad (iOS). John DiMaggio said as Bender: "Bite my Shinny Metal App!". @slurmed mentioned the app on Twitter a day earlier =P

The best and funniest part of the Panel, was the Bender Drawing Contest (to the death) between Peter Avanzino and Matt Groening. Matt made many quick sketches and the panel gave them to the fans with Futurama costumes. Peter draw a great image!
HERE YOU GO A VIDEO OF THE BENDER DRAWING CONTEST

Thanks to
ssandart
for the video
In the Simpsons panel, when they asked Matt Groening -
"Will there be a Futurama - Simpsons crossover?"
, he said:
There won't be a crossover but one of the Futurama writers was brought on board to pen the Christmas episode which is set 30 years in the future. Plus "Futurama is real and The Simpsons is just a cartoon"
That sounds kinda interesting and controversial... what do you think?
SOURCE:
The Wrap
,
Cinema Blend
,
Cinema Blend (Simpsons panel)
,
io9.com
,
UGO.com
by JavieR / July 21, 2011 / 20:31
Here you go the
updated info
of the Futurama Volume 6. This information was updated thanks to
TVShowsOnDVD.com
COVER:
The final
covers of the Blu-Ray and DVD Futurama Volume 6 (Season 6B) set
(click for larger images):
The covers have now a more similar color than the poster given for free at the San Diego Comic Con 2011 (previously, the cover was very very colorful). The image features Leela with a gun, using the pop style from the previous cover of
Futurama Volume 5
.
RELEASE DATE:
We know the
release date is December 20, 2011
(is not an official date.. but almost)
, ready for Xmas just like the previous Futurama Volume 5!
PRICES:
The listed prices are
$39.99 for the Blu-Ray
set and
$29,98 for the DVD
set. As usual, this prices
will drop 10 US Dollars
and will end up for $30 and $20 respectively.
EXTRAS / SPECIAL FEATURES:
Here you go, of course, this extras are subject to change:
Audio Commentary
Deleted and Extended Scenes
"Reincarnation Explained!" With Director Peter Avanzino
Futurama F.A.Q. (Frequently Axed Questions)
Professor Farnsworth's "Science of a Scene"
Christopher's Big Score: The Music of Futurama (Not mentioned in the updated extras :S)

Video

Widescreen / Widescreen (Blu-Ray: HD)

Audio

English (5.1 Dolby Digital) / English (Blu-Ray: 5.1 DTS HD Master Audio)

Subtitles
EPISODES:
Disc 1

6acv14 - The Silence of the Clamps
6acv15 - Mobius Dick
6acv16 - Law & Oracle
6acv17 - Benderama
6acv18 - The Tip of the Zoidberg
6acv19 - Ghost in the Machines
6acv20 - Neutopia

Disc 2

6acv21 - Yo Leela Leela
6acv22 - Fry am the Egg Man
6acv23 - All the Presidents' Heads
6acv24 - Cold Warriors
6acv25 - Overclockwise
6acv26 - Reincarnation
SOURCE:
TV Shows On DVD
by JavieR / July 21, 2011 / 02:05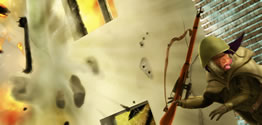 Hi folks. Is the time again when we are waiting all day long for a new Futurama episode, this time with "6acv21 - Yo Leela Leela". In the meantime, what about taking a break and enjoy some nice Futurama images created by some of the fanartist. This update begins with
Zed 85
and 4 of his latest Futurama arts. The first one is a great but sad portrait of Leela called "Lost". The other 3 are a series of images inspired by an original image by Kaspired called
Returning the DVD
ft. Leela. The versions that Zed created are great, the first one based in the original, but the next 2 are great situations of Leela in war in (featured) and after an explosion next to her. You have to check those images,
you'll not be dissapointed
.
Another artist today is
Vickram101
, with a fun crossover of Fry with the Green Power Ranger. I have to be honest, I didn't see this crossover coming. Other image, was created by
mej073
and features Leela mummified in tape.
The final artist of the day is
MissFuturama
with her latest 5 images. One fanart of a shippy Fry and Leela, a sexy Scruffy from the "Neutopia" episode, Lulabel.. a pole-dancing fembot. Two images feature an OC, Fry and Leela's daughter Alice. The first image is a sketch of Bender taking care of her, and the other (featured) is a portrait of this cute little girl.
Well, I've to go now, don't forget to tune in the new Futurama episode tonight at 10pm/9c only on Comedy Central!
by JavieR / July 18, 2011 / 01:23
The Futurama Volume 5, DVD or Blu-Ray, were are in a BIG DISCOUNT right now on Amazon.
I dunno why you can get this awesome prices, but if you still don't have the Futurama Volume 5, or you wanna get new copy, this is your chance!!
UPDATE:
Both sets, DVD and Blu-RAy returned now to the original price... :(
by JavieR / July 16, 2011 / 03:19
Time for new fanart people. With the new episodes, I've found some new artist and a lot of neat images. I would like to start the update with a new artist called
Leena
. She has created some nice traditional fanart, featuring some Leela and Fry shippy images (like the one featured today with Fry singing at Leela with a guitar), Leela as an angel, Bender killing all humans (aka Fry and Leela) and the next image with Leela and Fry as heads-in-a-jar, Leela on the beach, an scene from Leela's dream with Fry, Leela in anime style, Fry comforting Leela from episode "The Sting" and even a rainy image of an adult Lisa Simpson with Fry.
Another artist here again is
Sof-Sof
with her latest 8 fanarts, featuring some of her usual Fry and Zapp images, one of Leela and Bender (Leender or Bendla... i dunno), Fry advertising Slurm, a Fender (Fry and Bendes but just as friends), and eve 2 images of Female Fry from the episode "Neutopia" from the latest season.
Gulliver63
is back around here. I've added 23 of his arts.. yes you read correctly.. 23.. featuring many parodies, like The Crouching Tiger and the Hidden Dragon, Leela Gaga, Turanga Jane vs Leela Jetson, Dr, Who, Star Wars, The Fly (The Fry) and some other classic sci-fi movies. There are also some great alternate universes like the crew as insects or animals (called the metamorphosis), as superheros, Leela in the aquaverse, Leela sopping with her kids, Leela with Fella from deviantART and some other interesting images. You'll have to see all the nice fanart to believe it.
I've to run now, is 2 am around here and I should be sleeping.. or be drinking haha.
by JavieR / July 14, 2011 / 14:08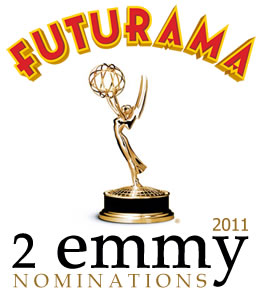 Great news people,
Futurama has been nominated for 2 Primetime Emmy awards 2011
for 2 episodes of Season 6A!
I would like to start with the
Best Animated Series nomination
for the episode
"6acv07 - The Late Philip J Fry"
. Here you go the group of nominees in this category:
The Cleveland Show - "Murray Christmas"
FOX
Robot Chicken: "Star Wars Episode III"
Cartoon Network
Futurama - "The Late Philip J. Fry"
Comedy Central
The Simpsons - "Angry Dad - The Movie"
FOX
South Park - "Crack Baby Athletic Association"
Comedy Central
This is quite great, since "The Late Philip J Fry" is quite a nice story and has a lot of heart. Is also the first Primetime Emmy nomination of Futurama since the series are back on TV as real half-hour episodes (the movies as episodes are not the best chopped up, I prefer those as movies).
The second and also great nomination is in the category of
Best Voice-over Performance
, and this time it is great to hear that
Maurice LaMarche
is the one nominated for his performance of
Lrrr and Orson Welles
in the episode
"6acv11 - Lrrreconcilable Ndndifferences"
. Here you go all the nominees:
Christopher Plummer as Narrator
Moguls & Movie Stars - The Birth Of Hollywoodd
Bob Bergen as Porky Pig
The Looney Tunes Show - Jailbird And Jailbunny
Seth Green as Batman/Cobra Commander/Judge/Light Cycle Driver/Newscaster/Robot Chicken/Nerd/Teenager/Venger
Robot Chicken - Catch Me If You Kangaroo Jack
Maurice LaMarche as Lrrr & Orson Welles
Futurama - Lrrreconcilable Ndndifferences
Dan Castellaneta as Barney Gumble/ Homer Simpson/ Krusty the Clown/ Louie
The Simpsons - Donnie Fatso
Brenda Strong as Mary-Alice Young
Desperate Housewives - Come On Over For Dinner
We knew from Moe himself way earlier that he was submitting his work of that episode to the Emmys, so it is great to see him nominated for the Best Voice-over Performance again after 13 years (his last Emmy nomination was in 1998 for his work on
Pinky and The Brain
).
Don't forget to cross your fingers or tentacles (or both),
the Primetime Creative Arts Emmy Awards 2011 will be announced on September 10, 2011
(59 days left) and
aired at a later date on the E! Network
.
Source:
Primetime Emmy Awards 2011
,
IMDb
by JavieR / July 11, 2011 / 16:32
Hello meatbags. I've been worried about seeing less viewers of the Futurama episodes every week. Past Thursday episode was great, feeling more like the classic Futurama, so, I guess you'll all see this Thursday episode "6acv14 - The Silence of the Clamps". Check out this kinda unknown 2 minutes sneak peak of the episode (added by a fan) that perhaps not everyone has seen:


Looking great right. I don't know where this preview was seen.. perhaps in the SDCC 2010 or from somewhere else, but I tell you that this video makes me wanna see this Thursday episode even more!

Come on people, make everyone watch Futurama, we want more viewers each week so we can have more and more of the series!
by JavieR / July 6, 2011 / 21:52
Well, I've read many reviews and points of view from the latest Futurama episode aired this past Thursday,
"6acv19 - Ghost in the Machines"
.. and I've to say that I'm very surprised with some thoughts people have about the series.
This episode is about Bender again (in screen time), but most importantly,
the friendship between Fry and Bender
, and how a Human-Robot friendship develops in the Futurama universe. We know Fry and Bender are best friends, but they don't get along in some stuff (like Fry going to a 80° robot strip club or Bender installing a what-room.. bath-what?). Deeply inside they care about each other, and I think this episode shows that more than in any other episode of the series.
Fry realizes that even when he was being haunted by machines (controlled by Bender) he missed one machine only, and that machine was Bender. Hearing this (as a ghost) Bender realizes that Fry truly cares about him (even when Fry said earlier that he prefers to save a human life), and even chose not to kill Fry in order to revive (a deal with the Robot Devil of course).
Outside this touching history, is the the common ghost story that we have seen other times in movies and series, and I think that's true (perhaps not always ncluding a deal with the devil), but it is used to get to the main point:
Robot-Human Friendship
(focused on Fry and Bender). Some people say that this episode ruined episode "6acv06 - Lethal Inspection" because Bender was supposed to die forever (he was build without a backup unit).. but he (like everyone) didn't know he could return as a ghost in a wireless network.
Now, outside all this you'll find many jokes. The Robot Devil is the best character this time because of his occurrences, dialogs and great episode flashbacks: The songs from "1acv09 - Hell is other Robots" and the deal with Fry from "4acv18 - The Devil's hands are idle Playthings".
The Parade Day parade, the Amish world (planet) and Robot Heaven (do not mix with the logical God from "Godfellas") gave us some more interesting facts about the Future in Futurama.
Some great parodies like DeadEx, the Preacherbot as the priest from
The Exorcist
and Fry's Wikipedia page. The Ghostbusters, "LIFE in Hell" and the Fryday jokes were great.
Now, I think this a good episode wrote by
Patrick M. Verrone
. Many people judge this episode for a couple of jokes that they didn't like or that are too trendy for Futurama, but don't see the deep story behind. This is the more solid episode of Futurama Season 6B, because it has more true characters and has more old Futurama feeling that some people seem to hold on forever (that is not a bad thing, but I think we should embrace change once in a while).
If you have something to say about my Futurama gibberish, you can write it using the

comment link

below, don't be shy!
by JavieR / July 5, 2011 / 01:24
Is time for some Futurama art by the fans for the fans. I would like to start with 9 brand new 3D images created by
Alanquest
, that feature some neat scenes. You'll see all-angle 3D layouts of Leela, Bender, Fry and even Female Fry from the premiere episode of Season 6b, "Neutopia". Those a really well made 3D molds, and with them he has created other scenes like Bender and Leela in their hippie outfits from "Bendin' in the Wind", Bender carrying Leela and Fry (and sponsoring Slurm), another image of Leela and Bender, the head-in-a-jar of Dr. House and one of Bender with Dr. House's head in his chest.
I've also adsed some fanart. There's one new image/sketch that look very nice, made by
Archonix (Graham Dawson)
featuring an Alien Leela attaking Fry.
Finally, to end this update I've added the latest fanart by
TheFightingMongooses
. He has been very active with 10 new images, featuring 3 photo shoots of the real female characters (Leela, Amy and LaBarbara) from episode "Neutopia", The Robot Devil trying to sing a song to Bender + Ghost Bender sleeping next to fry from the latest episode "Ghost in the Machines", pimp Bender with Aimee (Amy from "The Farnsworth Parabox"), Bender as Titanium Anglesmith, and even a portrait of the Sweet Zombie Jesus mentioned by Professor Farnsworth all the time!
Support TFP: